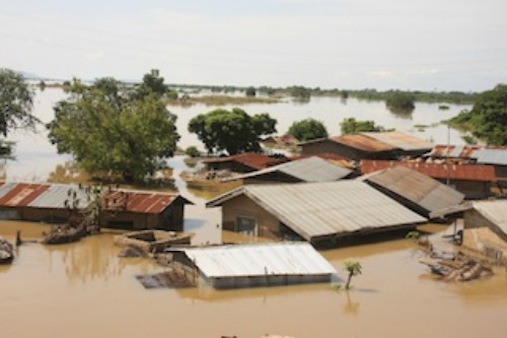 No fewer than 30 buildings located in densely populated Works Layout in Amakohia area, Owerri, were submerged by flood following a down pour in the town on Friday evening.
The rain which started at about 6 p.m. and lasted till about 8.30 p.m. on Friday caused flooding that affected property worth millions of naira in some parts of the town.
Clothes, cooking pots, plates, bags, books, and tricycles were seen floating on the flood.
Although no building collapsed, the flooding collapsed the fence of some buildings leading to water flowing into houses.
Areas badly affected within the Works Layout area are Mgbeahuru Street, Road C, and Road B in Amakohia Housing Estate Owerri where almost all the upstairs buildings had the ground floors covered with water.
Mr Kelechi Uzohu, a resident of the area, blamed the flooding on poor road construction by contractors engaged to rehabilitate the road from the Standard Shoe Industry Amakohia to Imo State University Junction.
"The gutter constructed by the construction workers now is narrow and can no longer contain large water such as the former one built by past government and because of this, we record serious flooding here'', he said.
Another victim, Mr Emma Ugochukwu said but for the prompt intervention of his neighbours his two children and sister in-law would have drowned in the flood.
"I was still on my way back home when the rain started and I stopped somewhere for the rain to subside.
"Unknown to me that flood had already covered my flat with my two children trapped in my flat with my 12-year old sister in-law.
"It was my fellow tenants who noticed that I was not yet back that rushed and forced my door open to rescue them'', he said.
Also speaking, Mr Vitus Nwadikwa, a resident of MCC/Uratta area of Owerri, said: "I cannot count the number of buildings covered by water in the area where I reside this evening.
"The level of damage is enormous and people are running here and there in the rain to move their things out'', he said.
Other areas also affected by flood were Umunguma area, Akwakuma, Orji, Ikenegbu and some part of Ekeukwu Owerri Main Market on Douglas Road Owerri.
The National Emergency Management Agency office in Owerri had earlier warned people living in flood-prone areas to relocate to safer locations due to imminent flooding expected towards the end of the year.