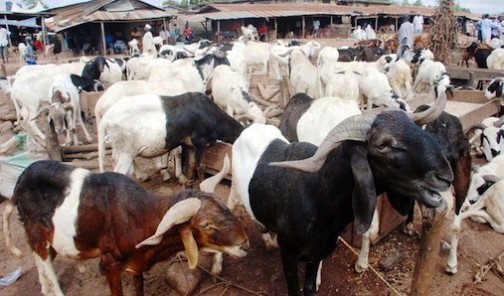 With the Eid-el-Kabir celebration barely two days away, sellers of ram in Kafanchan, Kaduna state said they recorded low patronage.
Checks conducted on Saturday revealed that the sellers, located at Bauchi, Zaria and Funtua streets recorded low sales.
Some buyers only came to haggle but ended up not buying.
Malam Illa Adam of Bauchi street said he brought his rams from Katsina and had sold only three out of twelve a week ago.
"The poor patronage is not far fetched from the economic situation in the country," he said.
Adam said prices of the rams ranged between N25,000 to N130,000 depending on their sizes.
Another ram seller, Salisu Fage of Zaria Street also blamed the nation's economic downturn to the poor patronage.
"The situation is not peculiar to ram sellers alone as it affects virtually every business activity, " he said.
Fage said he could not afford to take the rams back to Kano where he came from but may be forced to reduce the prices to woo buyers.
Also, Nasiru Abdullah who sells ram at Funtua street said although patronage
was poor, he is optimistic that buyers would patronise him before the
festivity. Eid-el Kabir will be celebrated worldwide on Monday.
"We have not completely lost hope as some people prefer to buy their rams a
day before Sallah because they believe they would be sold cheaper, " he said.
Alhaji Ibrahim Na'Allah, a resident of Kafanchan said that it is not mandatory for muslims to slaughter rams to mark Eid-el-Kabir.
"The slaughtering of rams is only for those who can afford it as they also, are expected to share with those who do not have," he said.