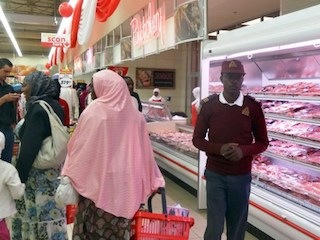 The Agodi garden and Shoprite, Ibadan, witnessed large turnout of fun seekers on Monday and Tuesday who trooped out to celebrate Eid-el-Kabir in spite of the economy recession.
Both old and young, including suckling babies, were seen at the centres eating, drinking, and having fun.
In spite of the N500 gate fee at the Agodi garden and N300 paid by children to access the playground at Shoprite, many parents still brought a number of children to celebrate.
A father, Mohammed Sani, said that his family tried to celebrate in their own little way in spite of the economy situation.
"Witnessing another Sallah alone is worth celebrating and thanking God, even though we may not slaughter ram now, but we will sometime; we know that God's time is the best.
"We believe the government is aware of the economic situation and trust God that something will be done soon," Sani said.
Similarly, a mother, Mrs Olabisi Ali, said it was not easy for them to celebrate in such a time but that they had to in order to appreciate the children.
"We just had to make ourselves happy regardless of the economic situation; our being alive alone to witness another Sallah makes us joyful," Ali said.
Also, Mr Hassan Onabule, said he was still happy to celebrate in spite of the fact that he was not able to kill any ram.
"Really, It is very tough and hard for us, no money, fuel, frequent hike in the prices of foodstuffs, I could not slaughter any ram but at least am still celebrating with my family.
"Only God can deliver us with the situation of things in the country now, we can't kill ourselves but have to take things the way we see it," Onabule said.
Some people were also cited in some other fun outlets and clubs in Ibadan metropolis.