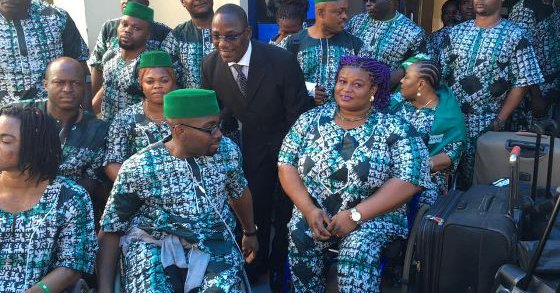 Team Nigeria's contingent to the 2016 Paralympics Games in Rio increased its medals haul on Monday with two gold medals to take its total to nine so far.
The team won the gold medals in power-lifting events to take Nigeria's haul to six gold two silver and one bronze medals.
Bose Omolayo won the women's -79 kg by heaving 138kg, setting new Paralympics Games and world records.
China's Xu Lili won the event's silver medal, while Taipei's Lin Tzu-Hui won the bronze medal.
Earlier in the day, Ndidi Nwosu equalled the Paralympics Games record of 140kg in winning the women's -73kg event.
Souhad Ghazouani of France who had earlier set the new Paralympic Games record won the silver medal, while Egypt's Amany Ali won the bronze.
The power-lifting sport has now given the team five gold, two silver and one bronze medals, ahead of the competition's final day on Wednesday.
Nigeria is also competing in para-athletics — which has yielded one gold medal so far — and para table tennis.
Already, the country's three entries in para table tennis have all been knocked out of the singles events.
The Games will end on Sunday.
Load more