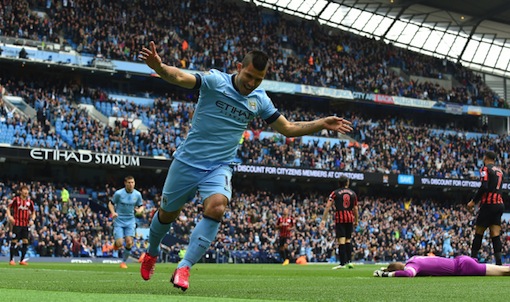 Sergio Aguero struck a second hat-trick of the season as Manchester City dominated Borussia Monchengladbach in their Champions League group opener.
In Pep Guardiola's first group game in charge, Aguero pounced to prod in an Aleksandar Kolarov cross and added a penalty when Ilkay Gundogan was fouled.
He rounded the keeper for his third in front of around 32,000 fans, a figure hit by Tuesday's postponement.
Advertisement
Substitute Kelechi Iheanacho completed the scoring, firing in from 12 yards.
Monchengladbach, who saw nearly half their fans fly home before kick-off due to the rearrangement, offered little and it seemed a matter of time before Aguero added another treble to the one he hit against Steaua Bucharest in qualifying.
Monchengladbach keeper Yann Sommer also produced two close-range saves to deny Aguero, as Pep Guardiola's side fired 22 attempts at goal against a side that finished fourth in last season's Bundesliga.
City's Champions League record features two exits at the group stage, twice going out in the last-16 and a club-best semi-final place over five seasons.
Guardiola's remit will be to take them further and his record of reaching at least the semi-finals in his seven Champions League campaigns – including two triumphs with Barcelona – offers hope for the club's following.
Against Monchengladbach, his side were far from the pass-heavy machine he built in Catalonia – instead they were efficient, seeing less of the ball than their visitors in the first-half but using it slickly to carve out chances.