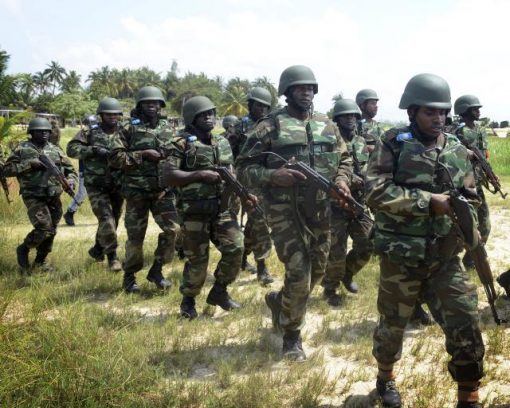 Troops of the 223 Light Tank Battalion , Gusau, Zamfara, have killed 15 bandits in two separate operations in the state, the Commanding Officer of the battalion, Lt. Col. Abdullahi Adamu, said.
Adamu, who made the disclosure in Gusau on Wednesday, said the operations were carried out between Sept. 7 and Sept. 10.
He said an early morning raid was launched on a suspected bandits' hideout in Dumburum forest in Zurmi Local Government Area during which seven bandits were killed, while many others escaped with bullet wounds.
The commanding officer said one round of 2.7mm calibre ammunition and a pair of army desert camouflage uniform were recovered from the camp of the fleeing bandits.
He said the troops then invaded Bagega area in Anka Local Government Area, but that the hoodlums had already fled before their arrival.
Nevertheless, Adamu said, the soldiers destroyed the camp along with one motorcycle which was abandoned by the criminals.
Similarly, he said, the troops raided another bandits' camp at Gando forest near Baruba village in Bukkuyum Local Government Area where eight bandits were killed, others fled with bullet wounds, while the camp was completely burnt.
He said all existing camps and the bandits' means of transportation were being destroyed by the Soldiers, while clearance patrol was ongoing across the forests in order to apprehend the fleeing bandits.
The commanding officer said all the operations were being supported by the Police, the Department of State Services (DSS), local vigilante groups and the Nigeria Security and Civil Defence Corps.
He appealed to all communities in the state to continue to give useful information to security agencies in order to rid the state of of criminals.