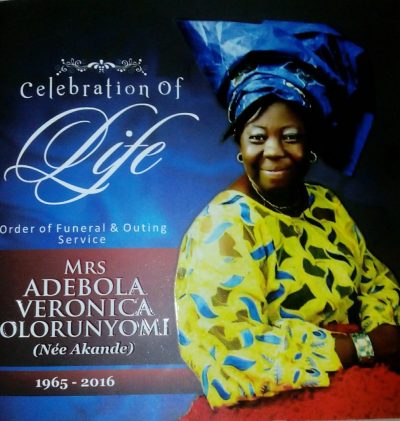 Between 10am and 12noon on Saturday September 17, 2016, family, friends, media chiefs and practitioners and members of the academic community gathered at the historic Trenchard Hall of the University of Ibadan, UI, for the funeral service of the late Mrs. Adebola Veronica Olorunyomi nee Akande who passed on September 12, 2016.
Adebola, the wife of Dr Sola Olorunyomi of the UI Institute of African Studies, died of breast cancer and was buried after the service.
Describing his wife as a sound and strong Christian, Sola Olorunyomi believed that his wife would not have died if there was proper diagnosis and proper handling of the case.
"She died basically of cancer of the breast. She detected it early. At a point, she started feeling this object. After six months, we went to the hospital but they didn't see anything. They kept saying that there wasn't anything there. It took about two years before the medical practitioners knew she had cancer. Before talking about good medical personnel, let us talk about good environment where they work. Most times we get to the hospital, there was no electricity. We are talking about good medical practitioners now who want to work but are victims of their environment. Can you imagine a situation where the medical practitioners who have their own problems: nagging husbands and nagging wives, some challenges with their children and the government compounds these problems by not supplying the necessary things they need? We, teachers, are not happy when our students fail. I know that the doctors and nurses are not happy when they lose their patients. If the chemotherapy started earlier, maybe the story would have been different.
"At the time the family was to take her abroad, she was so weak to be airlifted. She needed to be stabilized here before being taking abroad but she died before she could be ready for treatment abroad. My wife was a strong Christian that couldn't have been killed by somebody. Medical situation killed her", Sola stated.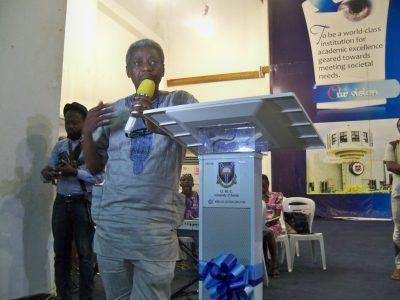 According to him, "Her last two days, she would say that I am getting weak. After a while, she said that she was losing consciousness. She has a daughter she has promised that she would be at her graduation. Lastly, she said I am losing my memory. You can bring your recorder and she said goodnight. My daughter regrets replying her good night".
Bemoaning the challenges faced in sourcing hospital gas, Olorunyomi appealed to the Federal Government and the Minister of Health to make hospital cylinders and gas available just like domestic cylinders and gas in such a way that anybody that needs it would have access without any bureaucracy and stress.
Eulogising her, Sola who could not find enough words to describe the deceased said, "Suppose we had to commercialise her ailment for alms in the intersections of our streets, in towns and cities, as many distraught others? Call that no other name: just horror! What manner of country is this? This situation that necessitates the commodification of private tragedies is nothing other than a blight on the soul of a nation. Just a request to the coming generation as regards the state of national injustices: be quicker to anger. No less! That was why I married Bola Akande. Goodnight".
Daughter of the deceased, Iwalewa, went down memory lane about how good her mother was to her.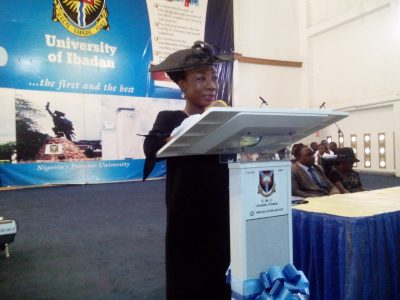 She said, "There was this particular day that I had an assignment, a fine art assignment to be precise and being the naughty child that I was, I refused to tell my mum about the assignment until it was due. After a lot of scolding, and screaming we started it, but could not get to it, simply because the clay was not forming a platform, no matter how hard we tried. So she poured the clay into a pan (a baking pan that was in the shape of a heart) and baked the clay in our oven. I mean who does that? After that I went to sleep, only for it to start raining and I screamed because my platform was outside, but my mother already entered the rain to pick up the assignment because she did not want me to wake up.
"There was also the time when my mum would tell me to close my eyes and that by 7am that morning before I go to school, I would see fried rice and chicken. And trust me by 7am there was fried rice and chicken. She was the Santa Clause that left gifts under the flower at Christmas. She was a strict disciplinarian, I mean my mother flogged me in front of my classmates in primary 3. She was the teacher who kept on teaching me mathematics though I always failed it. She prepared me for my common entrance, Junior WAEC, first food and nutrition practical, 1st GCE, 2nd GCE, Senior WAEC, IGCSE, 1st JAMB and Post-JAMB. She walked me to my venue for post-UTME, she never joked with my education. She encouraged me. She laughed at me when I got my first period, educated me on how to be a woman, she thought me sophistication and class".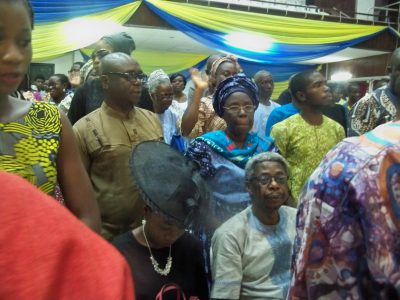 Iwalewa narrated further, "She inspired and challenged me for the better. She taught me maturity and independence. She taught me how to be my own person. My mother loved the fruiting of life and she liked to make herself happy. Even to the end, she never lost her sense of humour but most importantly, she loved God, her husband and her family. She was a philanthropist to the core and she knew the value of things and cherished everyone around her. She was beautiful physically and she was beautiful at heart. Mother didn't have the capacity to hate even those who hurt her; she was generous to a fault".
She ended by saying, "My mother was a fighter and a very brave woman; she was my best friend, my padi, my clone, my partner in crime. She was a fashion icon. She slayed with every outfit and a phone freak. She was fearless and ultimately devoted to God. Mama you promised a lot of things, you promised to see me graduate, get my first job, do my Masters/PhD, get married, watch my kids grow, I am going to miss you stroking my hair and praying for me while I sleep. I am going to miss our fight and late night conversation, am going to miss you taking me out to shop for clothes and toiletries. I miss you and love you always and forever".
Also eulogizing the deceased was Mrs. Funke Ugbe who described her as a wonderful sister and a loving mother that was kind hearted and blunt when she needed to be. She noted that the deceased touched lives and made an impact wherever she went adding, "As tough as you were, you had a listening hear and heeded to correction".
Others who gave insight to the deceased described her as blunt yet meek, strong, kind, fun to be with, amiable, energetic, a real confident who was always ready to serve, and a friend.
Earlier, Pastor Gbenga Odebiri, in his sermon, noted that for one to make heaven, one must have walked with God on earth stressing, "Bola walked with God. While she was dying, I saw a woman who was showing quality and strength. She was so positive and so strong at heart".
Adebola was born on November 10, 1965 in Ibadan into the family of Mr Abimbade Michael Akande and Mrs Moranti Comfort Akande of Esa Compound, Aagba, Osun State. A Catholic by birth, Adebola also fellowshipped with the Redeemed Christian Church of God.
She had her elementary education at Sacred Heart Primary School, Inalende, Ibadan, and her secondary education at Anglican Commercial Grammar School, Oritamefa, Ibadan. She studied Electrical Electronics at the University of Ado-Ekiti, UNAD, now Ekiti State University, ESU, and earned a Master's degree in Library, Archival and Informational Studies at the University of Ibadan, where she focused on utilizing ICTs to digitalize agricultural science and practice, in order to create the required synergies between researchers and farmers.
Adebola was very active in social development advocacy, and, over the years, the perimeter of her interventions covered a range of interests. During the military tyranny, she demonstrated her courage by selling TheNEWS magazine and Tempo newspaper at Oke Padre Area of Ibadan, which the military government then led by late Sani Abacha did not want to see on the newsstand.
She worked on the project of the Workers' Educational and Recreational Centre (WEDUREC), aimed at empowering working-class people with knowledge that would aid them in navigating trade-union bureaucratic structures and in getting such structures to truly work for them.
She was a member of Women Against Rape, Sexual Harassment and Exploitation (WARSHE), and a community counsellor to teenage girls on issues pertaining to sexual consciousness and sexuality rights.
She was also a resource person with the Information Aid Network (IFAnet), and was a linchpin in its e-literacy project which, from the late 1990s to the early 2000s in Ibadan, trained children of migrant workers from across West Africa as well as internally displaced Nigerians on the use of computers and new digital media for getting information about their homelands, the host land, and on other issues relevant to diasporic sustenance.
She was able to operationalize her ideas about how to make development happen through ICTs when she worked on a programme that transformed the information-gathering practices of farmers in Kano and Kaduna, both in relation to accessing extension services and in organizing produce marketing.
Retooling the resources of numeracy in the Yoruba thought-system, Adebola developed a pedagogic strategy for delivering mathematical knowledge to secondary-school students whose learning experiences would ordinarily have been hampered by a deficiency in the English language which is used for teaching every subject in the Nigerian school system.
A rare cultural reference point and research associate, Adebola Olorunyomi's last intervention in this regard was a co-translation with her husband of a 3000-year-old Egyptian text (Skhty, i.e. The Eloquent Peasant) on oratorical art, the property question, and the problem of justice. This ancient narrative they converted into the Yoruba language from an English rendering.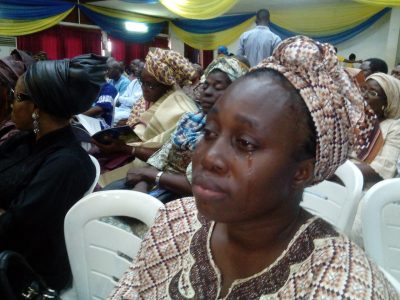 Her entire network of relationship which, given her public-spiritedness and collaborative breadth, covers the globe, will dearly miss her amiability, her resourcefulness, her ability to blend the novel with the longstanding, her eye for detail, her thoroughgoing sense of justice, her readiness to offer succour, and the warm honesty she invested in all that she did.
Until the time of her passing, she was the Manager of the Osogbo branch of Winners Golden Chance Ventures.
Among the dignitaries in attendance were: Chairman, Bradford Group of Companies and former Chairman, Onigbongbo Local Council Development Area, LCDA, Lagos State, Mr Idowu Osuolale Obasa, the Executive Editor, TheNEWS magazine, Kunle Ajibade, the provost of Nigerian Institute of Journalism (NIJ), Mr. Gbemiga Ogunleye, former Chairman, National Union of Journalists, Lagos State Chapter, Lanre Arogundade, Professor Nelson Fashina, Professor Ayo Ojebode, Dean Postgraduate School, Professor Yinka Aderinto, ASUU scribes from universities in the country, including Demola Aremu and Wumi Raji.
Gbenro Adeshina