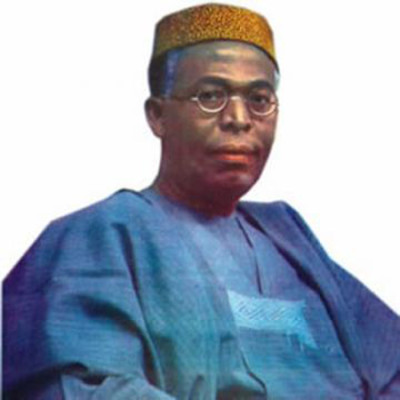 Chief Obafemi Awolowo, the late Premier of the old Western Region and leader of opposition in the First Republic was Vice Chairman of Federal Executive Council and Finance Minister (Federal Commissioner) during the General Yakubu Gowon regime.
When Awolowo (Awo for short) was in charge of the country's finances, Nigeria embarked upon many infrastructural projects and even executed a three-year civil war without borrowing money.
However, at a point, Awolowo decided to move on. Below are his resignation letter (written 45 years ago) and Gowon's reply.
Chief Obafemi Awolowo's Resignation Letter From The Federal Executive Council Dated June 13, 1971 To General Yakubu Gowon
June 13, 1971.
My dear Commander-in-Chief,
You will recall that in a statement made by me and published in the SUNDAY TIMES of March 30, 1969, I declared, among other things, as follows:
"Even at the federal level, I have no desire whatsoever, and I certainly cannot be tempted or induced to develop one, to head, or participate in an unelected or even an electoral-college elected civil administration in a military or any setting. At the moment, I am participating in the activities of the military government because I have been invited, and I also think it is right, so to do.
I am, therefore, obliged, morally and for the purpose of keeping Nigeria united, to take part, as fully as I can, in any measure designed, in particular, to keep the Ibos as a constituent ethnic unit in the federation of Nigeria, enjoying equal and identical status and benefits with other ethnic units, and in general, to preserve Nigeria as an economic and political entity."
I should have, in accordance with this declaration, relinquished my present offices soon after the end of the civil war in January last year. But one main matter decided me against such an immediate course of action. As you know, before January 1970, the four-year development and reconstruction plan had been under active preparation, and it had been hoped that it would be launched early in the 1970/71 fiscal year. It was my strong desire to participate in the consideration of this plan. As it turned out, however, the plan was not actually considered until August 1970.
By that time, three other factors had supervened. First, the capital estimates for 1970/71 had been delayed until the launching of the four-year development plan, which did not take place until November last year. At this late stage, I decided that the capital estimates of 1970/71 should be incorporated into those of 1971/72.
Second, by November 1970, the time for the introduction of the 1971/72 budget was only some four months away.
Third, as from September 1970, our foreign exchange position had started to undergo an unusual rapid deterioration. It occurred to me, in all these circumstances:
-that it would be untidy for me to leave without completing the budget for 1970/71;
-that it would be hardly fair to my successor for me to leave at a time when preparations for the 1970/71 budget had actively begun under my direction, and;
-that it might be interpreted in some circles as an act of bad faith for me to leave at a time when our foreign exchange was in such a bad state, and no sensible formula had been found for arresting its deterioration.
Read more here:http://thenewsnigeria.com.ng/2016/09/awolowos-45-year-old-letter-why-he-resigned-from-gowons-government/