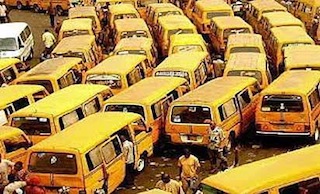 Some intending passengers on the Oshodi-Ijora route on Sunday lamented the hardship they had to go through as a result of high fares by commercial motorists.
The passengers who spoke in Lagos said they were made to part with N200 whereas, coming from Ijora to Oshodi attracted N150.
Mr Kazeem Babalola, a passenger going to Ijora from Oshodi, said that six months ago, the cost per passenger was N100 which was later increased to N120.
Babalola said that when the country was faced with the scarcity of petrol, the price was again increased to N150 and now N200.
"Amid all fare increases, passengers are compelled to pay the cost because there is no other route to Ijora from Oshodi that will cost less than N200.
"We expected that the authorities in the motor park will reduce the cost after stability is restored in the pump price of petrol but nothing has been done.
"It is sad because all the way from Sango-Ota in Ogun State, I paid N150 to get to Oshodi, now I am paying N200 to Ijora. It is sad,'' Babalola said.
He pleaded with the authorities of the National Union of Road Transport Workers (NURTW) to call the drivers to order, adding that going to Oshodi from Ijora was N150.
Another passenger, Mrs Toyibat Lawal, said that she paid N250 from Ifo, Ogun, to Oshodi but she was made to pay N200 to Ijora.
"The distance from Ifo to Oshodi which is very far, cannot be compared with that from Oshodi to Ijora because it is shorter.
"Again, the road network of Oshodi to Ijora is far better than Ifo to Oshodi which is very bad and I paid N250, which is okay when you look at these conditions.
"I cannot understand why they are still collecting that much on this route; please let the right authorities look at the issue because this is extortion,'' Lawal said.
Miss Bukola Taylor, another passenger, said that Oshodi to Ijora was her route to work daily and that the price had affected her monthly expenses greatly.
"When the price was still N100 and N120, it was convenient but now, I spend almost half of my salary on transportation.
"The amount that should take me to and from work is what I spend to work only now,'' Taylor said.
One of the drivers of a 14 seater bus who pleaded anonymity said that out of the N2,800 got from each loaded bus, N1,000 is remitted to the union at the garage.
A passenger who had no idea of the latest fare had only N150 to pay but he was allowed at the discretion of the bus driver.