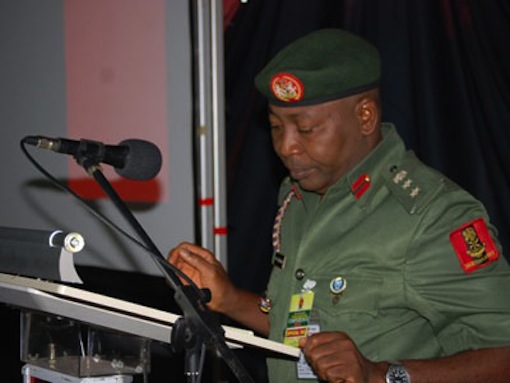 The Nigerian Army has confirmed that six civilians died Monday in Borno in an attack by remnants of the Boko Haram terrorists looking for food.
This is contained a statement issued by acting Director of Army Public Relations, Col. Sani Usman.
Usman said the unfortunate incident happened when the terrorist ambushed troops of Operation LAFIYA DOLE escorting commercial vehicles from Damboa to Maiduguri, at Sanda general area.
According to him, three soldiers, who sustained injuries during incident had been evacuated to Maiduguri.
"Consequently, another robust patrol team has been despatched to reinforce the troops, clear the general area and pursue the terrorists.‬
‪"This unfortunate incident has brought to the fore the need for more vigilance and cooperation amongst all.‬
‪"We would like to assure the public that we would not allow this isolated incident to thwart the peace and security commuters enjoy along the route and all other opened routes in the North East," he said.‬
‪Usman said that troops were pushing the attackers and would not relent until they were apprehended or killed.
"Additional security measures have also been put in place to avert reoccurrence," he said.
‪Meanwhile, Usman has debunked report of suspected terrorists attack at Chibok.‬
‪"What happened was that two persons were murdered at Kwamjilari village, which is over 30 kilometres from Chibok, and very close to Sambisa forest, by suspected remnants of Boko Haram terrorists looking for food.‬
‪"We wish to reiterate that they weren't killed outside or near a church as being rumoured.
" The people from the said village are all in Internally Displaced Persons (IDPs) camp in Chibok.‬
‪"Those who went back to the village without authorisation were moved back to Chibok two weeks ago.‬
‪"Those killed went back on their own contrary to security advise," he said.
‪He said that a patrol team was sent from Chibok to the village this morning, adding that adequate measures would be taken to ensure no one go back to the village for now.‬