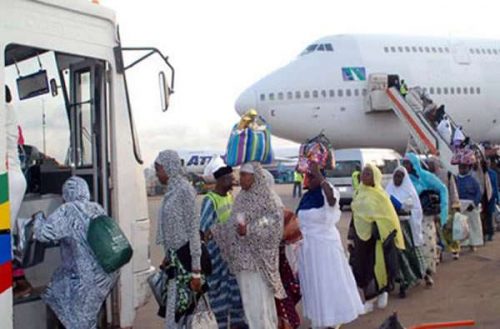 A total of 1,265 pilgrims from Kaduna State have arrived home after performing the 2016 Hajj in Saudi Arabia.
The News Agency of Nigeria (NAN) reports that the 3rd batch of pilgrims arrived in Kaduna on Wednesday via Max Airline with 474 pilgrims.
Abdullahi Bayero, Chairman, Media Sub-committee of the state Hajj Delegation, told NAN in Makkah that 405 pilgrims for the 4th flight would also depart for Kaduna from King Abdulaziz Airport, Jeddah, on board Flynas, a Saudi Arabian airline.
NAN reports that the first batch of 491 pilgrims were transported back to Kaduna on Sunday by Flynas Airline, while the second batch of 300 pilgrims arrived at about 2:30 a.m. aboard Max Airline flight on Monday.
According to Bayero, a total of 5, 575 pilgrims from Kaduna State performed the 2016 Hajj.
He gave an assurance that the three airlines transporting the pilgrims would conclude the exercise on time as the operation has been smooth so far.
The chairman advised the pilgrims to continue to give maximum cooperation for the success of the operation by obeying the rules and regulations.