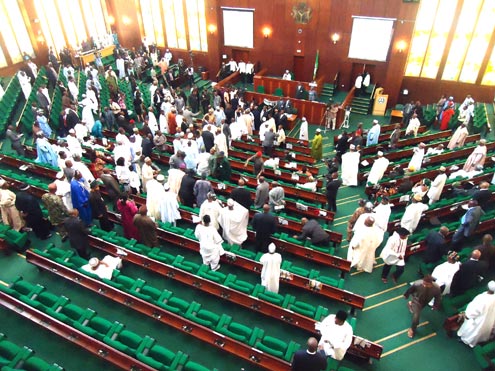 There was an uproar in the House of Representatives on Wednesday as supporters of Speaker Yakubu Dogara started shouting his name to prevent some members of the House from moving a motion for his impeachment over the budget padding scandal.
The drama started when Speaker Dogara refused to recognize a member of the House Aliyu Madaki who raised his hand to raise a motion. Instead, the Speaker recognised Emmanuel Oker-Jev, Chairman, Rules and Business, to move a motion.
There was so much noise that when Oker-Jev moved his motion to discuss the budget padding allegation, it was quickly referred to the ethics and privileges committee by the Speaker.
Majority of the lawmakers were not happy with the budget padding allegations raised by the former chairman of the House Committee on Appropriation Abdumumin Jibrin.
During the commotion in the House, Abdumumin Jibrin was observed moving round the chamber trying to enlist supporters for his call on Dogara to step down as Speaker. He was closely watched by the Sergeant-at-Arms.
After normalcy was returned, Madaki wondered why the motion moved by Oker-Jev was not seconded by any legislator, which was against the rules of the House.
He told Dogara that there was a call for his resignation based on the allegations levelled against him by Jibrin but Dogara dismissed this, saying Jibrin allegations were against the entire House.
Jibrin later walked out of the chamber.