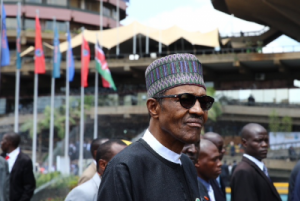 Nigeria, under the leadership of President Muhammadu Buhari, is deeply committed to full restoration of peace, security and stability in Guinea Bissau, the war-torn country that has not known peace and stability in the last four decades.
Buhari said this on Tuesday at the ECOWAS Consultative Meeting of Heads of State and Government at the ongoing 71st United Nation General Assembly (UNGA).
The president, who was represented by Amb. Sola Enikanolaiye, Permanent Secretary in the Ministry of Foreign Affairs, said this was why Nigeria had been actively involved in the search for peace, deploying huge human and material resources in that regard.
"We are, therefore, fully determined to ensure full democratic governance and effective functioning of all key institutions, especially Defence, Legislature, the Judiciary and other security agencies.
"As a further demonstration of our deep commitment to Peace and Security in Guinea-Bissau, Nigeria appointed a Special Envoy in the person of former President Olusegun Obasanjo to mediate on Guinea-Bissau crisis.
"In this regard, he had undertaken several trips to Guinea-Bissau in order to interface and dialogue with all relevant stakeholders, including the Executive, Legislature, Judiciary, Civil Societies and all registered political parties in Guinea-Bissau.
"I am, therefore, glad to inform this august gathering that our efforts in this regard are already yielding the desired dividends.
Buhari stressed the need to intensify efforts and support for the Security Sector Reform (SSR) aimed at deepening democratic culture, post-conflict peacebuilding and reconstruction in the country, especially the rehabilitation of ex-combatants.
He said further that the full-scale implementation of the Six-Point Plan for peace and democratic transition in the country was critical to the future of the country.
"In this connection,the primary role of ECOWAS, based on the principle of subsidiarity, must be fully acknowledged and respected at all times.
"Nigeria fully supports the gradual demobilisation and eventual withdrawal of ECOWAS Mission in Bissau (ECOMIB) after a proper formation of a contingent of the Guinean Army to support ECOMIB in its protection of institutions and high officials of the State.