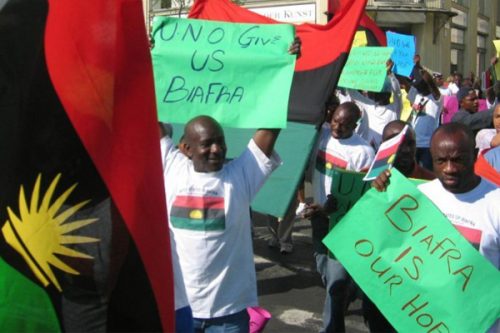 The Commissioner of Police in Imo, Mr Taiwo Lakanu, on Wednesday in Owerri, warned members of the Independent People of Biafra (IPOB) against breaching public peace.
Lakanu gave the warning while speaking with the News Agency of Nigeria (NAN) on the "sit at home protest" of IPOB slated for Friday.
The group's planned protest is over the detention of its Leader, Mr Nnamdi Kanu.
The commissioner said that the police would resist any attempt by the group to breach public peace or carry out activities contrary to the law.
According to him, the group has no right to forcefully order members of the public to sit at home or switch off their phones.
"We will arrest and prosecute any IPOB member if any of their actions leads to breach of security and public peace.
"Agitators must find a legal ways of making their grievances known to the authorities and not to create panic in the society.
"Police is in charge of any situation in the state, and we are ever ready to ensure a violence-free state,'' he said.
The commissioner urged members of the public not to entertain any fear over the planned protest, but to go about their lawful businesses.
NAN reports that IPOB, in a recent statement, ordered that those in South-East should sit at home on Friday in demand of Kanu's release.
In the statement, IPOB requested that banks and markets in the region should be closed on the day, while road transport workers and others should stay at home.
It also demanded that all mobile phones should be switched off while members of the public stay at home for the entire day.

Load more