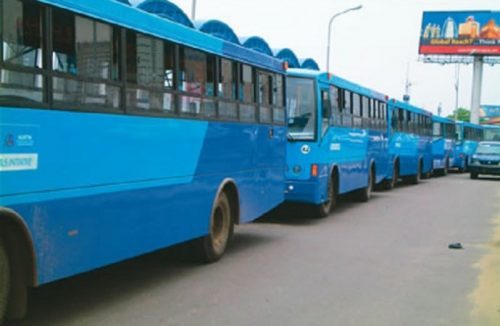 An operator of the Lagos State Bus Rapid Transit (BRT) scheme, Primero Transport Services, on Thursday in Lagos launched its in-transit television network.
Mr. Fola Tinubu, the company's Managing Director said the introduction of the television network was aimed at improving commuters' experience and transportation in the state.
"Everyone is used to the exterior branding of buses, but we are trying to change that paradigm, just as we are trying to change the paradigm of transport in Lagos or Nigeria.
"While on the bus, commuters will be more educated and entertained, and advertisers have better opportunity to get more information to the public, instead of some other forms of outdoor advert.
"We believe that the future is transit television and we are hoping to add more buses, hence, we hope to move at least a million people daily in Lagos; there is no television station can give that.
"Do not forget that unlike in the case of traditional media, commuters or audience have no choice than to watch your advert on transit television until they disembark,'' he said.
According to Tinubu, the company's 434 buses will be installed with WiFi technology to facilitate remote and seamless content distribution on the television network.
"We are going to also have a park and drive system equipped with multilevel car parks at all our major shelters, and this would bring more people to see your advert, hence helps sales to rise,'' he said.
The managing director said that the transport company would soon introduce a mobile application that would enable commuters know the next arrival time of the buses, among other features.
He assured residents of Lagos that the company would not relent in its effort to invest and ensure the Lagos State Government's Strategic Transport Plan is achieved.
In his remarks, Mr Opeoluwa Senbajo, Co-Founder and Executive Director, ValueMedia Advertising Ltd, said the company had adopted a three-thronged approach to vetting content distributed on the network to meet regulatory standards.
"We take responsibility for the content we distribute on the transit television platform, and as such, media content goes through three levels of checks," he said.
In his remark, Mr Kolawole Ojelabi, External Relations Officer, Lagos Metropolitan Area Transport Authority (LAMATA), said the regulatory authority would continue to support efforts to transform the state's transportation sector.
"Transportation drives growth anywhere in the world, so what ValueMedia is doing with transit television is also to drive growth.
"With better content development, we would be able to pull in people on the BRT.
"So, I want to encourage advertisers and content developers to support transit TV.
"The first set of coaches to run on the Okokomaiko to CMS blue rail line will soon arrive and by the time they do, it will also support in-transit television.
"So, be assured that we (LAMATA) will do more to ensure we give quality transportation system to Lagos residents,'' he said.
NAN reports that Primero began operation in Nov. 2015 and has more than 2,000 staff.