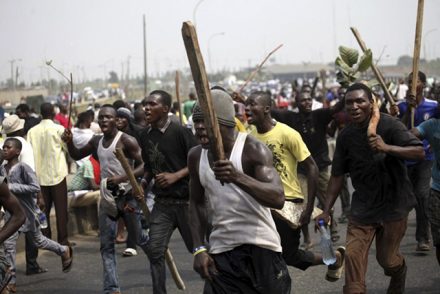 A 17-year-old boy, Godfrey Bonshak, died on Thursday in Pankshin Local Government of Plateau following an attack by a mob that accused him of stealing a motorcycle.
The Plateau Police Command Public Relations Officer (PPRO), Mr. Tyopev ATema, who confirmed the incident, told the News Agency of Nigeria (NAN) in Panskhin that already the corpse had been buried in the morning.
"There was a distress call to our men in Pankshin Divisional Office on Wednesday evening that somebody was being attacked by angry youths and they took action immediately.
"Our men were able to rescue the boy from the hands of the mob and rushed him to the General Hospital Pankshin, where he, unfortunately, gave up the ghost," the PPRO said.
Tema said arrests had not been made in respect to the incident but the corpse of the boy had already been buried by the family members.
But an eyewitness, however, told NAN that "only the police would unravel the truth about the allegation laid against the boy,"
But the father of the victim, Mr. Bonshak Gokum, told sympathisers at the burial that his son did not commit the theft.
"My son, who is lying down here dead did not commit any such crime. He was only framed up by his enemies and only God will judge them," the aggrieved man said.
The police, however, said that investigation into the matter had already begun and that those found involved would face the wrath of the law.