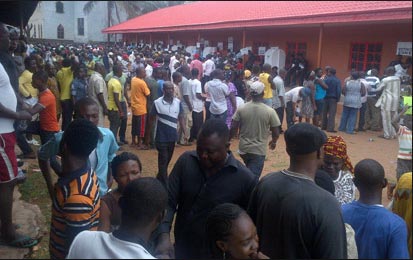 Public offices in Edo recorded skeletal activities on Thursday as only few workers reported for duty after the two-day holiday declared by the state government for Wednesday's governorship election.
Similarly, attendance of pupils and teachers in public and private schools was also low.
The News Agency of Nigeria (NAN) recalls that Edo Government on Saturday declared Tuesday and Wednesday public holidays to enable public servants to travel and participate in the poll in the state
At the state and federal secretariats on Sapele Road and Auchi Road, respectively, very few workers were on duty in their offices.
Most offices were locked as the officers did not report for duty.
The situation was the same in major towns in the state, including Ekpoma, Auchi, Abudu and Uromi and in all the secretariats of the 18 local government areas.
Mr Sylvanus Arevhamhe, a staff of National Commission for Mass Literacy, Adult and Non-Formal Education, at the federal secretariat, who was in the office, said that he resumed because the holiday was over.
He said that he was able to report for duty because he did not travel from Benin to participate in the election.
According to Arevhamhe, the low turnout of workers was because some of them who travelled to their hometowns to vote have not returned.
"Some workers may also be skeptical about the outcome of events when the election result is announced and would want to stay back at home to monitor the situation," he added.
A teacher at Aduwawa Secondary School, Aduwawa, who spoke on condition of anonymity, said that although some teachers were present, only few students came to school.
She said that the school would close early to enable them to go home before the election result was announced.
However, banks and other corporate organisations and business outfits were fully operational while residents went about their normal businesses.
There was also free flow of traffic along major roads except on the routes leading to INEC office where armed security men checked all vehicles.

Load more