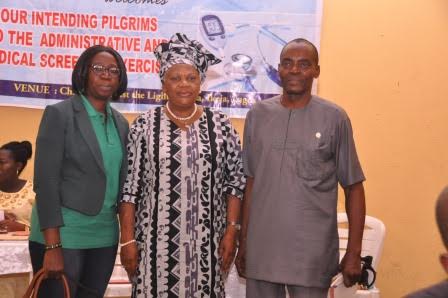 Lagos State Government has begun the administrative and Medical screening exercise for intending pilgrims to Jerusalem and Rome to ascertain their medical fitness in preparatory to this year's Holy Pilgrimage slated for November.
Permanent Secretary, Ministry of Home Affairs, Mr. Adeola Hundeyi who spoke at the screening at the Chapel of Christ The Light, Alausa, Lagos, Southwest Nigeria on Thursday, said that the state government had concluded necessary arrangement with the provision of experienced personnel that would assist the intending pilgrims in making the journey a successful one.
Hundeyi, who disclosed that all the intending pilgrims for 2016 pilgrimage were self-sponsored, advised them to compose themselves in an orderly manner in the Holy Land considering the resources already expended in the exercise.
He urged them to be guided by the purpose for which they are visiting the Holy land and not allow unnecessary distraction sway them from their main intention for embarking on the holy journey.
Also speaking during the screening exercise, the Board Secretary, Lagos State Christian Pilgrims Welfare Board, Olayinka Oye-Bamgbose said the screening would afford the state government the opportunity of knowing the health status of each intending pilgrim and make adequate medical arrangement for them.
In a short exhortation given to the intending pilgrims by the Chaplain of the Chapel of Christ the Light, Ven. Isaac Oluwafemi Taiwo, the intending pilgrims were admonished to keep the focus on the journey by connecting with God in prayers and supplication.
He said the journey provided opportunity for the intending pilgrims to concretize and solidify their faith in God as they would be privileged to see and touch interesting biblical artifacts read in the Bible.