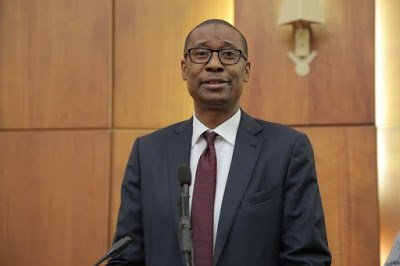 The Federal Government has set up N25 billion revolving loan scheme for transport companies in the country to access funds for the purchase of mass transit vehicles.
The Minister of Industry, Trade and Investment, Mr Okechukwu Enelamah, disclosed this in Abuja on Tuesday at the opening of a two-day national workshop for chief executives of mass transit companies.
Enelamah said that the initiative was aimed at boosting the country's mass transit system as well as encouraging local patronage of local vehicle assembly plants.
He explained that the loan would be administered through the Infrastructure Bank at zero percent interest rate.
The News Agency of Nigeria (NAN) reports that the workshop is organised by the National Automotive Design and Development Council (NADDC) in collaboration with the Nigerian Institute for Transport Technology (NITT), Zaria.
The theme of the workshop is "Nigeria Automotive Policy: A National Agenda for Sustainable Mass Transit Operation Development.''
"Government is determined to develop the automotive industry because of its extensive linkages, impact on job creation, technology transfer as well as foreign exchange savings and earnings.
"The response by investors has been encouraging and we have brought back vehicle assembly and are now focussing on local content development.
"Many of the new assembly plants produce buses and mini-buses. I hereby call on all Nigerians to patronise the products of these assembly plants," he said.
Enelamah urged the workshop participants to come up with innovative solutions for the development of an efficient and affordable mass transportation system in the country.
The Minister of Transportation, Mr Rotimi Amaechi, stated that the mass transit sector was one of the major engines driving the nation's socio-economic and cultural development.
He, however, said that in spite of this, the sector was facing huge challenges, including low operational capacity, broken down vehicles, obsolete facilities and poor maintenance culture.
The minister said that a vibrant local automotive industry would significantly address those challenges while at the same time depending on the mass transit sector for patronage.
"This workshop is, therefore, organised to appraise the mass transit perspective of the Nigeria Automotive Policy.
"It is a platform for stakeholders to meet and exchange ideas on the effective implementation of the policy and make recommendations for realising a sustainable mass transport agenda for Nigeria.
"The dynamic leadership of President Muhammadu Buhari is poised to address the challenges facing the transport sector. The Federal Government is willing to invest heavily in this sector.
"We are already seeing practical efforts in that regard, especially with the rail transportation system,'' he said.
Load more