By Toyin Omotoso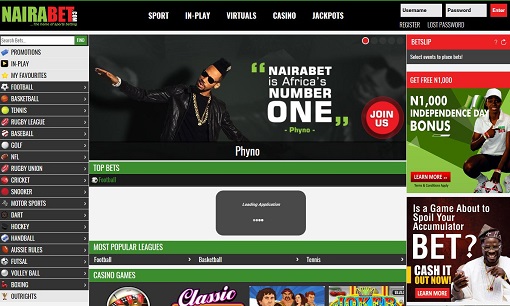 Nigeria's first sports betting platform, NairaBET has just launched a new platform for its users.
To celebrate the transfer to this new betting platform, NairaBET is giving a FREE bet credit bonus of N1000 to all existing customers.
Before we tell you how to take advantage of this bonus, the question is – Why exactly is Nairabet moving its servers to a new platform?
In the words of NairaBET's CEO, Otunba Akin Alabi, the main reason for switching to a new platform is to enable Nairabet to serve its customers better with speed, flexibility and a much user friendly interface.
If you happen to be an existing customers, you are well covered and there's is absolutely NO REASON for you to panic.
Everything in your account remains unchanged.
Your betting history is intact.
Your current bets are untampered with.
But your account balance will automatically increase by N1000
With this N1,000 bonus, you can bet on any number of games you want – 1 game or 10, single game or accumulator – your choice.
There are no minimum odds to bet on. Bet on games with odds of 1.05 or 3.50 if you like.
You simply need to bet with it ONLY once to get your money out – no turning around multiple times. Just win once, cash your money.
The Terms and Conditions For this N1000 Bonus Are:
Your free N1,000 must be used on ONLY 1 bet slip. It is left for you to decide the number of games on that bet.
You can use the N1,000 bonus on any kind of bet. Singles, accumulators etc. You can use it on any kinds of odds. It doesn't matter if the odds is 1.01 or 20.0
You can only use the bonus ONCE. You cannot break it down into different bets. If you break it down, it will take the entire N1,000 at your first attempt and still record only your chosen stake.
If you had a balance before, you must use the entire N1,000 bonus first because ANY bet you place first will take out your bonus.
Payout is only on winnings. This means that you will be paid whatever you win using the free bonus credit, less the amount. For example, if you use your N1,000 to win N20,000 you will get N19,000 back.
But what if you are not already a registered online member of NairaBET.com, how do you benefit from this new platform?
Here's how.
The new Nairabet platform comes with a lot of interesting features but one of them that users are going crazy about is the NAIRABET CASHOUT.
What is this Nairabet Cashout All About?
This is how it works.
If you place a bet and some of the teams have won but you are afraid a team will spoil it, you can cash out your winnings on the games you have won.
E.g. If you chose five teams to win (Real Madrid, Juventus, Barcelona, Sevilla and Roma).
If the first four have won and you are afraid Roma will not win, you can ask for a cash out based on the teams that have won. You can cash out on both Pre Match and Live Games.
For live games, you can decide to cash out anytime during the game even if the team you bet on is losing.
With the new platform, there is a link on your bet slip, that says, "Cash Out!" which you can click to cash out your bets at any time. Simply click on it, see your new winning amount, confirm, and voila! You're happy. No regrets again!
NOTE: You can only cash out on football games.
If you don't have a Nairabet account at the moment, now is the time to get one. Simply go to: www.NairaBET.com and click on "Open Account" to get started.