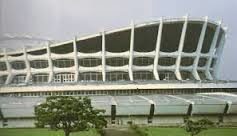 Miss Jedidiah Oketola, an upcoming gospel musician, on Friday advised the youths to take advantage of the opportunities in the entertainment industry because of the creativity it offered for them to express themselves.
Oketola said in Lagos that the industry had created employment for the youths and stemmed hooliganism by cultivating vigour and versatility in them.
"The entertainment industry is one of the fastest growing and largest industry in the country, It affords the young ones the opportunity to freely express themselves and their creativity.
"That is why I am advising the youths to take advantage of the opportunity that the industry offers to make a living for themselves," she said.
The musician said that apart from being able to build a name in the industry through one's creative works, a person could also make money from the venture.
"A lot of musicians who are new in singing but have produced good works have become popular and made money from the sale of their products,'' he said.
Oketola said that the industry had different areas where the youths could fit in, according to the skills they possess in the art of entertainment.
According to her, the youths could make a career out of music, comedy, movies, arts and crafts, among others, in whatever category their talent naturally fits into.
The musician said that the entertainment industry had become one of the greatest contributors to the the nation's Gross Domestic Product (GDP), with figures amounting to billions of naira.

Load more