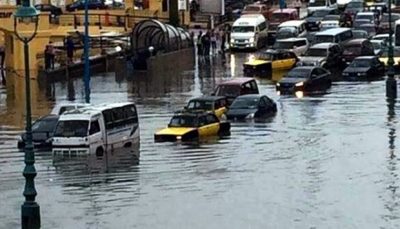 Twenty-six people have been killed in accidents related to flash floods in parts of Egypt this week, state television reported on its website Saturday.
The deaths occurred in the provinces of southern Sinai, the Red Sea and Sohag, areas hardest hit by torrential rains that started on Thursday, the report said, citing the Health Ministry.
On Saturday, Prime Minister Sherif Ismail visited the Red Sea town of Ras Gharib and inspected the damaged caused by flooding there, Egyptian television said.
Dozens of Ras Gharib residents, angered by the government's response to the floods, blocked a main road in the town and prevented Ismail from completing his tour, independent newspaper al-Masry al-Youm reported.
The protesters chanted slogans against the prime minister, the report said.
Online pictures purportedly from Ras Gharib showed cars trapped in flooded streets.
Last year, the governor of Alexandria, Egypt's second-biggest city, resigned after residents accused local authorities of failure to overhaul the drainage system in the Mediterranean Sea city.

Load more