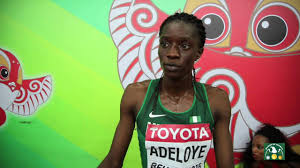 Tosin Adeloye, who was slammed with an eight-year ban by the International Association of Athletics Federations (IAAF), said she was done with her career in athletics.
Adeloye, 20, said in Lagos that though she loves the sport, she would not be coming back after the ban was lifted.
"I love athletics but I am not coming back to the sport again. I know that I will survive by God's grace, this is just a phase that will pass," she said.
The 4x400m gold medalist at the 2015 African Games, tested positive for anabolic steroid Methenolone at the 2012 National Sports Festival (NSF) in Lagos.
The ban ended in January 2015 and Adeloye was able to represent the country at the 2015 World Championships which held in August in Beijing.
She was banned for the second time by IAAF after an in-competition test she took at the Warri Relays on July 24, 2015 turned out positive.
All the results she has achieved, individually or jointly were annulled including times the Nigerian team ran in Beijing.
Following the ban, the nation's 4X400m relay team was also disqualified from the games.
Other members of the Nigerian team at the Championships included Regina George, Funke Oladoye, and Patience Okon-George.
The Ekiti state athlete said she was now focusing her attention on becoming a successful business administrator at the Ekiti State University.
"For now, I just want to focus on my education, I am presently studying Business Administration and I pray to God to guide me all through my stay,'' she said.
Load more