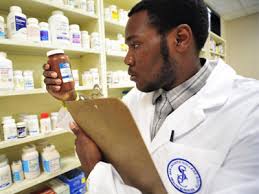 With more `sudden deaths' recorded on the Plateau, a pharmacist, Mrs. Rotkang Okunlola, has advised Nigerians to make regular medical checks `a necessary priority".
Some senior medical personnel recently died few minutes after complaining of chest pain.
Medical opinions have suggested that the deaths might have been avoided if the victims had made regular checks a priority.
Okunola, a Chief Pharmacist with Dilimi Pharmacy, Jos, who spoke on the trend, advised Nigerians to insist on consistent medical checks and avoid assuming that they were in good health.
"The regular medical checks should be seen as mandatory; they are very vital to curtailing the rising tide of sudden deaths amongst Nigerians," she said on Monday, in Jos.
She defined sudden death as "an unexpected death occurring within minutes or hours, usually within 24 hours, in a person who looked healthy".
The pharmacist lamented that most Nigerians were not aware of their health status, especially their blood pressure, sugar level, kidney functioning ability, among others.
She said that most sudden deaths were caused by unmanaged high blood pressure, high sugar level(diabetics) and renal diseases, usually due to the victim's ignorance as he or she may not have been aware of the presence of the disease.
Okunola explained that high blood pressure could quietly damage the human body for years, "without manifesting any symptom".
"High blood pressure can damage the cells of the arteries' inner lining, which leads to the hardening of the artery wall.
"Such change can affect other arteries in the body and block the flow of blood to the heart, kidneys, brain, arms and legs, thus causing heart attack, heart failure or kidney failure.
"High blood pressure can also cause angina – when the heart does not get as much blood and oxygen as it needs because of a blood blockage.
"If that happens, it causes pain in the chest and effectively signify a warning signal that the individual is at a high risk of a heart attack, cardiac arrest or sudden cardiac death," she explained.
According to her, with regular medical checks, high blood pressure, diabetics, heart diseases and kidney diseases can be detected early and managed effectively to avert complications.
She further explained that lack of exercise, obesity; smoking, high intake of salted food and food high in cholesterol were also causes of sudden death.
Okunlola suggested "at least two medical checks every year", for early detection of ailments that could lead to sudden death, and cautioned Nigerians against assuming that they were always in perfect health.
Load more