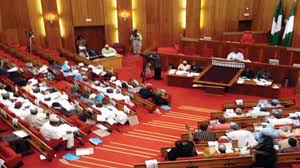 The Chairman, Senate ad hoc Committee on the Humanitarian Crisis in the North-East has pledged to unravel massive corruption allegedly perpetrated by public officers in the management of Boko Haram crisis.
Alhaji Shehu Sani made the pledge during a courtesy visit to Gov. Kashim Shettima of Borno in Maiduguri on Friday.
Sani said that the committee was constituted following reports of alleged mismanagement of scarce resources by those in charge of managing the crisis.
"We are here as a result of a motion tabled on the Senate on Oct. 4, raising concern on the humanitarian crisis in the North-East.
"Our mandate is to investigate how millions of taxpayers' money pumped in through Federal Government Committees and agencies here failed to impact positively on the living conditions of Internally Displaced Persons.
"We have documents on the ways and manners federal funds disbursed for the upkeep of displaced persons have not been spent well.
"We are deeply concerned that the huge money government has been spending has not been producing positive results."
Sani alleged that some public officers had been feeding fat on the resources meant for the welfare of the victims of the crisis.
"Our concern is that tax payers' money meant to alleviate the suffering of widows, orphans and other vulnerable persons have ended up in private pockets.
"The Senate was embarrassed by reports coming from both local and foreign media, alleging mass stealing of funds."
Sani commended the state government for striving hard to cater for Boko Haram victims, in spite of its limited resources.
"This committee has been tasked to investigate how and why things should happen that way.
"It is disgusting to us that a humanitarian crisis that should attract positive intervention and support to the victims has turned to an opportunity for some people to milk the country dry."
Responding, Shettima thanked the committee for the visit and promised to facilitate the performance of its assignment.