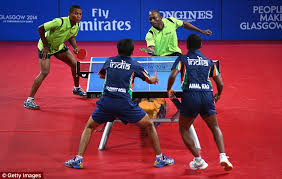 Table tennis coach Hameed Surmer says his players at the just-concluded 48th Asoju-Oba Table Tennis Championships, exhibited skills that could lead them to play at the global stage.
Surmer, the Head Coach and Proprietor, Surmer Table Tennis Club, Somolu, Lagos, produced the players who won two gold, one silver and five bronze medals at the competition.
"Although I am a grassroots coach, scouting for and training these players, I have a strong belief that they will be called to represent the country very soon,'' he said.
The coach said on Monday in Lagos that he was happy that his players achieved such feat in spite of not preparing well for the championships.
He said that his target for 2017 was for his players to win gold medal in all the tournaments they would attend, adding that he wanted them to set records.
"In 2017, I plan to build my players more to achieve gold medal in any tournament. I am no longer interested in many players but few players with good records.
"I want them to have good records at state, national and international levels,'' he said.
He attributed his success at the 48th Asoju-Oba tournament to his players' commitment and obedience.
"At previous editions, I featured not less than 20 players but due to some reasons I had to concentrate on five players.
"The players in spite of little training have shown that they are talented and committed and I am very proud of them,'' Surmer said.
His players won two gold medals in the Junior Girls Doubles and Junior Girls Singles, two bronze medals in the Junior Mixed Doubles, one bronze medal in the Junior Boys Doubles.
They also claimed a silver medal in the Cadet Mixed Doubles, bronze in Cadet Girls Singles and a bronze in Cadet Girls Doubles.

Load more