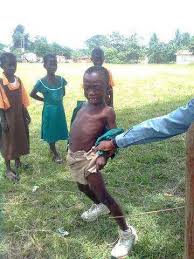 Mr Godwin Pius, the Principal, King's Kids International School, Gwagwalada Abuja, has advised teachers to apply caution while disciplining a child to prevent inflicting injury on the child.
Pius, who gave the advice on Wednesday in Abuja, however noted a disciplined child would go a long way to curtail social ills in the society.
He said: "one of the essential tools for discipline or correction of children either at home or school is the use of the cane.
"The use of the cane inculcates fear into the child to do the right thing he/she doesn't want to do.
"It also helps to accelerate the rate and ability of the child to read faster.
"Although there are sad stories on social media like Facebook of student being caned to death, it is an unfortunate accident.
"The use of the cane should be done with maximum care and caution.
"If the cane is not use in our classrooms and in our environment, we are inviting indiscipline back to our schools.''
Pius cautioned that as an African country, Nigeria should not copy what other developed countries were doing in relation to corporal punishment, saying, "it is wrong mentality.''
"As an educationalist, I support the use of the cane in our schools.
"There is this wrong mentality gotten from America social way of freedom for disciplining children to be interpreted as child abuse.
"But we should remember that we are Africans.
"The cane was used in the 1960s, 1970s, and the 1980s for those that went to school then.
"Make a comparison with these class of people and those who are attending school today; there are great differences," he said.
The educationist declared that those who went to school during the '80s were better in terms of good behaviour, fear of God and academic standard.
"So let all hands be-on-deck towards disciplining our children at home and equally in school.
"The scripture also gives vivid explanation as to why we should not spare the rod and spoil the child,'' he added.
Corroborating Pius submission, Mrs Bridget Ochuba, the Proprietress, God Cares Nursery/Primary School, Gwagwalada, Abuja, said that punishing a child with the cane is an African way of correcting a child for doing wrong.
She explained that disciplining a child when he/she went wrong was not an abuse but a way of bringing up a child.
"But if the child is only being scolded each time he/she does wrong; it will make the child to relax; never ready to take corrections.
"In any case, too much of everything is bad; a teacher should not over react when he/she is punishing a child; there are other ways of disciplining a child apart from cane.
"Also there are some parts of the body you don't whip a child," she said.
Ochuba advised teachers to always correct the children with love and not anger as such would help to shape the child's behaviour.
She also advised parents not to confront teachers for punishing their children but to use dialogue while resolving any issue that concerns their children in school.
"Avoiding confrontation with the teacher especially in front of the child in question will create disrespect," she said.

Load more