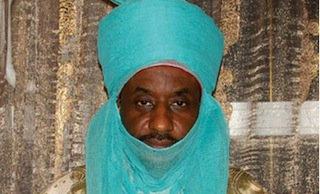 A Kano-based pro-democracy group, Coalition for Democratic Norms (CODEM), has cautioned the Emir of Kano, Sanusi Lamido Sanusi, to desist from his incessant attack on the government of President Muhammadu Buhari to avoid unnecessary consequences.
The group, in a statement jointly signed by Balla Abbe Kazaure and Usman Dan Numa Gazkiya, National Coordinator and General Secretary respectively was of the view that, "Emir Sanusi, going by his position must have had several open channels to get to the presidency to ventilate his ideas on economy than attacking the seat of power openly."
According to the group, the emir seemed not to have learnt from history that whoever lived in a glass house should not throw stone, asserting that, "no emirship has the capacity to defend any glass house when the act of throwing stones boomerangs."
Though the group agreed that everybody had the right to advise or criticise the government, it however warned that it was not when such a person was vulnerable.
Going down memory lane, the group wrote: "As it is, the position of an emir is too vulnerable to guarantee the comfort of public commentary, especially making a career out of acerbic attack on government policies.
"Powerful traditional rulers like Sultan Dasuki and Emir Jokolo were all stripped of their titles in one day; no processes, nothing.
"That's how 'useless' the traditional authority is in our present arrangement. Emir Sanusi's own grandfather was only casually invited to Kaduna in 1963. On arriving the governor's office, Sir Kashim Ibrahim drew out a prepared letter of resignation alongside the report of DJM Muffet report of inquiry into Kano Native Authority finances, he was advised to sign the letter. He did.
"He went into the office as an emir with all the paraphernalia and emerged out of it as a "retired" emir. He was immediately exiled to Azare, in present day Bauchi state."
The group reminded Sanusi that he was the CBN governor only recently and that if the government wanted, it could get proverbially a thousand and one things to use against him.
The concerned group cited issues of financial reporting council, forex management under him as well as bailout for banks as examples.
"It is like the case of someone in the glass house and the emirship can't fortify that glass house," he said, warning that, "the emir's closeness to Bola Tinubu, Bukola Saraki and Nasir el-Rufai can be misconstrued to mean conspiracy against the government towards 2019," it added.
Jamiu Yisa