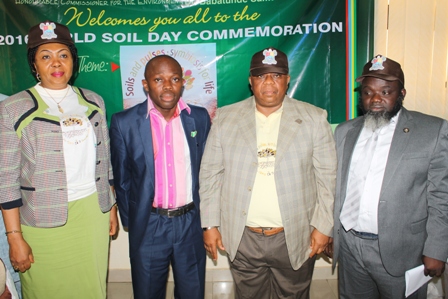 The Lagos State Government has charged miners in the state to desist from degrading its environment through their mining activities.
Speaking at the 2016 World Soil Day celebration in Ikeja, Lagos, Southwest Nigeria on Monday, Commissioner for the Environment, Dr. Babatunde Adejare, said miners must adopt measures aimed at reducing environmental impact on the soil.
Adejare pointed out that even though the activities of the miners were meant to generate money to feed their immediate families, mining activities should not be done to degrade the soil and environment, stressing that government would not do anything to take away their means of livelihood but that they should also reciprocate that with high level of responsibility and not damage the soil and the environment.
"Soil plays crucial roles in human existence. It is essential in the supply of food, clean water and resilience to flood and droughts. It provides living space for human as well as being an essential ecosystem services which are important for militating against climate change and global warming.
"The nutritional value of food consumed is directly related to the soil in which it grows. Soil serves as an ecosystem services which are important for water regulation, climate regulation, biodiversity conservation, carbon sequestration and cultural services," he explained.
The Commissioner maintained that soil had been affected with problems ranging from erosion from wind and water, higher demand for food, increased population and human induced activities of deforestation.
"Soil degradation is a serious global environmental problem arising from physical, chemical and biological activities. Loss of organic matter, decline in soil fertility, erosion, adverse changes in salinity, acidity or alkalinity and the effects of toxic chemicals, pollutants or excessive flooding.
"Restoring soil as a key ecosystem on land, and a sustainable use of the soil in urban and rural areas could help us mitigate and adapt to climate change. This could be achieved through adequate awareness and proactive measures on the need to restore the nourishment of the soil," he said.
The Commissioner said the theme for the 2016 world Soil Day which is "Soils and Pulses, a symbiosis for life" was suitable as it attributed the positive contributions of pulse crops, otherwise known as legumes to soil properties.
While restating government's commitment to tree planting, Adejare urged Lagosians to plant trees to mark their celebrations and to help preserve the soil because human existence was dependent on the availability of trees.
"Trees prevent erosion and help to preserve our soil. We therefore advise residents to curb uncontrolled act of tree felling and make sure to plant trees to replace those removed from vast acres of land; so that we can reduce the unprecedented rate of erosion''.
Dr. Adejare also called on auto mechanics in the state to desist from indiscriminate disposal of spent oil as this could trigger loss of natural nutrients and contaminate underground water. He urged them to patronize companies ready to purchase spent oil for the purpose of recycling.
He stressed that in planning for subsequent editions of the World Soil Day enlightenment programme, efforts would be made to incorporate other trade unions /professional bodies whose activities impact on the soil and the environment.
Participants at the 2016 World Soil Day were drawn from major contributors on environmental matters such as the Nigerian Environmental Society, Lagos Sand Miners Association, Lagos State Environmental Protection Agency (LASEPA), Ministry of Energy and Mineral Resources, Agriculturists, among others.

Load more