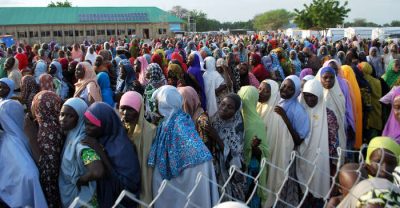 The Inspector-General of Police (I-G), Mr Ibrahim Idris, said two policemen, three Soldiers, one prison official, one Air Force personnel, a staff of Borno Ministry for Agriculture and two members of the Civilian JTF had been arrested for alleged abuse of IDPs.
The Human Rights Watch in its report, had accused the Police, Nigerian Army, vigilante groups and camp leaders of raping young girls and women in various IDPs camps.
Following the report, the I-G set up a special investigation panel to investigate the cases.
Idris made the disclosure at the Inspector-General of Police Conference in Abuja on Tuesday.
He said that the police would liaise with the Army and Air Force to make their men available for a thorough investigation.
Idris said that after the investigation, any suspects found guilty of the offence would be dismissed and taken to court for prosecution.
"We are going to conduct a thorough investigation and if anyone is found guilty we will dismiss him then take him to court,"he said.
He said that the police had put in place some mechanisms, including the deployment of female police officers to IDPs camp to check future occurrences.
President Muhammadu Buhari had ordered the I-G and the affected state governors to investigate the allegation.
On the Rivers re-run election, Idris said that the force had begun the deployment of personnel to the state for peaceful and fair election.
He said that there was need for collaboration between other sister agencies for the election.
Idris, who declined to comment on the alleged withdrawal of the Chief Security Officer (CSO) to Gov. Nyesom Wike of Rivers, said the police had good working relationship with all the 36 state governors.
He advised state commissioners of police to ensure that Nigerians were not subjected to hardships on the roads during the Yuletide.
"You should ensure that no hardship is created for citizens of Nigeria, try and ease movements on the roads," he said.

Load more