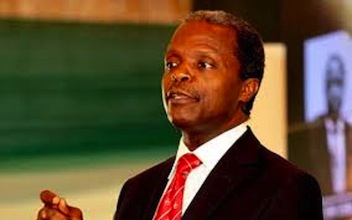 *FG releases N53m to serve meals to 76, 690 pupils
*3.4m pupils to be fed across 17 states
The National Homegrown School Feeding scheme of the President Muhammadu Buharihas kicked off in Anambra State on Thursday with free meal to be served 76,690 pupils in 1,050 primary schools in the state.
Speaking in Awka, Anambra State, the Special Assistant on Homegrown School Feeding Programme in the Office of the Vice President, Mr. Dotun Adebayo said primary school pupils in Anambra were excited as the feeding started in their schools.
Adebayo, who led a team of federal and state officials to some of the schools on day one of the Homegrown School Feeding Programme implementation said they witnessed the feeding in three schools in Akwa: Community Primary School, Awka South; Central School, Ameobi and Central School in Nibo.
"The pupils were excited and enjoyed the meals," he stated, adding that the cooks in those three schools, among the total of 774 already recruited and trained for the feeding programme, served 'Okpa' a.k.a Moin-moin garnished with vegetables to the delight of the pupils who took the meals during their break time about noonday.
"All together in Anambra State, an estimated 76, 690 pupils in 1050 schools would be served every day of school. The feeding programme caters to pupils from primary 1-3," he said.
He said having met the stated requirements for Federal Government funding for the Homegrown School Feeding, a sum of N53, 687, 900 had been released directly to cooks for the kick-off of the school feeding programme in Anambra, to last till the end of the current school term.
"All the cooks were recruited from communities around the primary schools for the programme, verified and trained to provide the catering service in the 21 LGAs in the State. Generally, the Homegrown School Feeding programme, which is one of the Social Investment plans of the Buhari presidency, is driven through community participation where residents in the community are engaged as cooks to provide feeding services. Also the programme leverages on the agricultural produce available within the communities.
"The Homegrown School Feeding programme of the Buhari administration will not only boost school enrollment and improve the nutritional status of the pupils, it would also stimulate local farming, while equally creating jobs including the 774 cooks now in gainful employment in Anambra State," he said.
According to him, while the 2016 Budget of Change made provision for funding of the feeding programme in 18 states, 17 States had concluded the designing of the School feeding models through state-level multi-sectoral capacity building workshops, based on FG's stipulated requirements.
"The 17 states are: Anambra, Akwa Ibom, Ebonyi, Enugu, Sokoto, Kaduna, Borno, Zamfara, Ogun, Oyo, Osun, Benue, Plateau, Taraba, Delta, Abia and Bauchi. Estimated figures from 15 of these states put the numbers of pupils to be feed at over 3.4 million," he said.
-Kazeem Ugbodaga