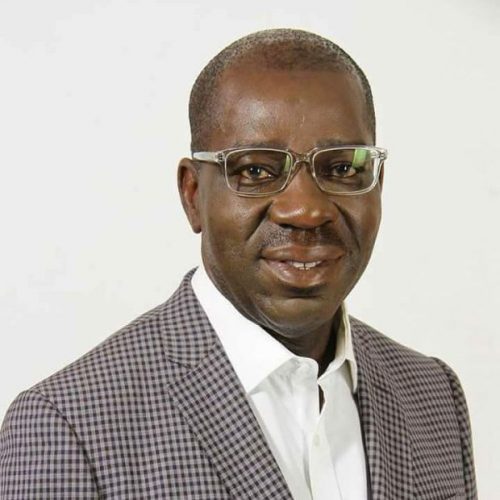 Gov. Godwin Obaseki of Edo has said that his administration's desire is to make Edo the most prosperous economy in the South-South within three years.
Obaseki said this on Thursday night in Benin at a seminar organised for permanent secretaries as well as leaders and stakeholders in the state.
He said that in another seven to 10 years, his desire was to position the state as the number one economy in the country.
The governor said that in "15 to 20 years, we want to be the number one investment destination in the continent''.
"To achieve this vision for the state, first class institutions capable of nurturing transformation policies must be built,'' he said.
Obaseki stressed the need to deliver on infrastructure better than what was available in the Federal Capital Territory.
"We must deliver on infrastructure better than what are available in the Federal Capital Territory.
"We must aim at generating revenue more than Lagos without putting unbearable tax burden on our people.
"We must, therefore, aim at developing our institutions because in the course of this workshop, we shall be working on six semantic areas, which are the key pillars of our goal for the state, the governor said.
He said the six semantic areas include how the state would achieve economic revolution that would develop world class infrastructure.
" How do we ensure institutions are reformed so they can deliver?
"How do we ensure that we can create a state that is socially-conscious and create emphasis on the welfare of our people.
"How do we ensure that our culture which is world-class acclaimed is displayed and made available for the world to enjoy our tourism as well as sustain our environment,'' the governor said.
Obaseki said in the case of the economic revolution, the semantic group should focus on how the state would establish an investment bureau that could begin to attract world class investments.
He also said that focus should be on strategic plan that could create a minimum of 200 jobs as well as many small scale and medium enterprise that would be sustainable.
Obaseki tasked other semantic groups on the expectations of government at the end of their three-day brain storming session, adding that their resolution would be the working document for developing the state.
He said that in view of this, the state government looked forward to a range of experts in the semantic areas expected to be covered.
Earlier, the Chairman of the occasion, Retired Justice Samson Uwaifo, said that effective leadership called for a good decision.
Uwaifo described the retreat as a revolutionary approach to governance.
The former Supreme Court Judge urged the people not to misunderstand or abuse the dialogue platform as it was a sign that the governor was ready to serve with the best intention.
The Deputy Governor of Edo, Mr Philip Shaibu, said that the administration would be an all-inclusive government that would be beneficial to all.