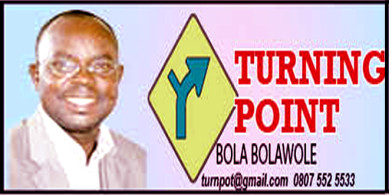 Ultimate evil, Nazi leader Adolf Hitler, and his propaganda chief Josef Goebbels, said human memory is very short; that you have to remind Homo sapiens of the same facts again and again. They were correct. How many of us still remember the notorious Lagos robbery king-pin, Ishola Oyenusi? Though I only read about his devilish exploits, I remember him each time I race through Adeniyi-Jones Street, Ikeja and cast a glance at WAHUM, Oyenusi's nemesis. Benin-based robbery king-pin, Lawrence Anini and his second-in-command, Monday Osunbor's exploits, are more recent; yet how many of us still remember their blood-cuddling testimonies? It got so bad in those days that the then military dictator, Ibrahim Babangida, had to publicly embarrass the then Inspector-General of Police, Etim Inyang, with "My friend, where is Anini?" Not long afterward, the devils were captured. The rest, as they say, is history.
Recently, two very important Nigerians chose to prod our memory: Former military Head of State and later two-term civilian president, Olusegun Obasanjo, let it be known that he was one of a handful of Nigerian "king-makers" who made another ex-military dictator, Muhammadu Buhari, civilian president in 2015. He obviously meant it as a plus for self but not long afterwards, the bubble burst and OBJ turned coat. Possibly, OBJ had thought it a plus to croon about his role in head-hunting Buhari to come clean up what was generally known then as the mess peculiar of ex-President Goodluck Jonathan. Unfortunately, Buhari has turned out a super flop and a nightmare. He is today a very bad product and not someone that many would be proud to beat their chest about or identify with. OBJ appears now a Buhari opponent; especially after the president came into the open about its plan to mortgage the future of Nigerians with a US$30billion loan he is running after. With what Nigerians are passing through under Buhari, whoever imposed him on Nigeria has done the citizenry great havoc. I used to think that we the voters were to blame for voting Buhari, until OBJ surfaced to claim responsibility.
This was not his first time of imposing a bad leader on Nigerians. He had done similarly in 1979 when he imposed the nincompoop, Shehu Shagari. He repeated the ignoble feat in 2007 when he imposed a sick Umaru Yar'Adua, who later died in office, plunging the country into a constitutional crisis. OBJ also imposed ex-President Goodluck Jonathan. None of these impositions had been cherry news to Nigerians. So, what is there for Obasanjo to swoon about?
Tony Anenih (not Aninih, mind you!) recently reminded us that he was the one who truncated the presidential ambition of Atiku Abubakar. Atiku was Obasanjo's deputy who desperately wanted to be president. He almost upturned the apple cart of his Oga in 2003. Like Obasanjo, like Anenih aka "Mr. Fix-It". Two things Anenih did not care to remind us about is that despite the hundreds of billions on Naira voted for the Ministry of Works under his watch as Minister, he did not fix a single road anywhere in the country, including his home state, Edo. Had he delivered, the state of road infrastructure would not have been as parlous as it is today. Also, he is reputed as one of those who negotiated away the June 12, 1993 mandate given to the late MKO Abiola. That election was pan-Nigerian; was the freest, fairest, and most credible ever. So Anenih can be held responsible for also truncating the ambition of MKO and dashing the hopes of his fellow citizens.
What is there for anyone to gloat about in this? If the June 12, 1993 election had not been annulled; if MKO had been allowed to rule; if we had never had the misfortune of having Sani Abacha and Abdulsalami Abubakar, only God knows where Nigeria and Nigerians would have been today.
It is sad that leaders hardly get punished for their shenanigans here. Otherwise, I would have asked Nigerians to choose one of two punishments for Obasanjo and Anenih. Which of them do you think should be thrown into the lions' den (like biblical Daniel) and which should be cast into the fiery furnace heated many times over (like the three Hebrew sons – Shedrack, Meshack, and Abednego), bearing in mind that God is not likely, this time around, to send His angel to shut up the lions' mouth nor will the Son of God descend from His throne above to turn the fiery furnace into an air-conditioned room?
Partiality in the temple of justice?
Two of the judges who have been arraigned on corruption charges by the Federal Government have been given bail on liberal conditions: self-recognition. This contrasts sharply with what other "lesser" mortals who faced similar corruption charges had to pass through; people like Olisa Metuh, Femi Fani-Kayode, to mention but a few. Is this a case of esprit de corps; the same as the one practised in the National Assembly where members and ex-members are simply asked to "take a bow" and walked away when they appear before the legislators for confirmation of appointment or other matters, whereas other "lesser" mortals are made to pass through gruesome grilling, with many eventually falling by the way side? This is a clear case of all animals are equal but some are more equal than the others. While I frown at stringent bail conditions, I am of the view that liberal bail conditions as was applied to the judges in question shall cut across. The purpose of bail is not to punish or victimise but to ensure that the accused turns up to face trial. It makes no sense to demand for sureties who are federal top officials or landed properties in the highbrow areas of the FCT, Abuja alone. Top officials of state governments and landed properties in other parts of the country should suffice as sureties; ditto self-recognition for those who cannot run away.
Bola Bolawole
[email protected] 0807 552 5533