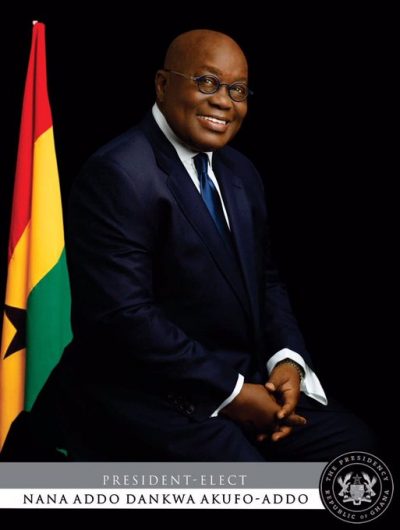 Opposition leader Nana Akufo-Addo won Ghana's national election, becoming president elect at the third attempt and cementing the country's reputation as a standard bearer of democracy in a region that has been blighted by civil wars and coups.
Akufo-Addo defeated President John Mahama by 53.8 percent to 44.4 percent, electoral commissioner Charlotte Osei said late on Friday, sparking scenes of celebration in the capital Accra.
"I make this solemn pledge to you tonight: I will not let you down. I will do all in my power to live up to your hopes and expectations," Akufo-Addo told a jubilant crowd in front of his residence.
Supporters of his New Patriotic Party (NPP) broke into cheers and dancing and car horns blared and fireworks erupted across the city, witnesses said, following an anxious day in which his victory had been broadly accepted but there were no official results.
Akufo-Addo, 72, served as foreign minister and attorney general in the previous NPP government that ruled between 2001 and 2009 and twice previously lost close battles for the presidency.
"It is my duty and my privilege to declare Nana Akufo-Addo as the president elect of Ghana," Osei told a news conference in the capital.
The outcome maintains Ghana's record of fiercely-contested but peaceful elections, with a government being voted out at the ballot box for the third time since 2000.
The opposition challenged the 2012 election results, which led to an eight-month battle in the Supreme Court. It lost, but many observers said the process strengthened the country's democracy and confirmed judicial independence.
The scale of the NPP's victory on Friday made another legal challenge unlikely. The party also picked up enough seats to win a parliamentary majority, independent estimates showed.
The NPP will inherit an economy from Mahama's National Democratic Congress that for years was rated one of Africa's most dynamic but has slowed sharply since 2014, in part because of prices for the country's main exports – gold, cocoa and oil – have fallen.
That made the government vulnerable to opposition accusations it had mismanaged the nation's finances and squandered wealth from oil, which started to flow in 2010 from an offshore field operated by British company Tullow.
In a bid to kickstart growth, the NPP says it will create jobs, build a dam in every village and a factory in every district and give each constituency the equivalent of $1 million per year to pursue development projects.
At the same time, it also aims to maintain a tight fiscal stance in a country that is mid-way through an International Monetary Fund program aimed at restoring balance to an economy facing elevated inflation and other problems.
A few minutes before Osei's declaration, Mahama called Akufo-Addo to concede defeat.
Reuters

Load more