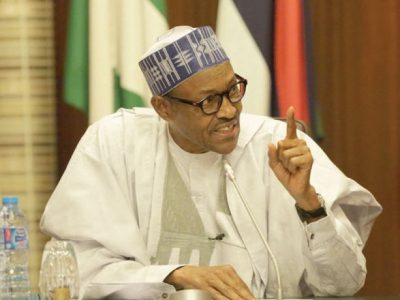 President Muhammadu Buhari has frowned at the high rate of illegal migration of Nigerian youths to European countries through the Mediterranean Sea.
Buhari made this known at the 32rd Annual Meeting of the Sahel and West Africa also to mark its week, organised by the Food Crisis Protection Network in Abuja on Monday.
The president, who was represented by Chief Audu Ogbeh, the Minister of Agriculture and Rural Development, called for an immediate stop to the action by Nigerians, saying it was unfair to European countries.
He said that agriculture revitalisation was a solution to the migration issue, while expressing the readiness of his administration to support farmers in order to boost local production in the country.
"We are pained when we see our youths across West and North Eastern Africa in a desperate attempt to cross the desert; get to Libya and cross the Mediterranean Sea to Europe.
"We consider it as something that must stop as fast as possible because it is unfair to Europe.
"We think that if we reorganise our agriculture better, many of these youths will earn a decent living at home rather than become an embarrassment to their host countries and to us here in Africa.
"We are not unmindful of our youths population here, hence the need to ensure that the agriculture sector is revitalised as soon as possible.
"We have decided that we will no longer rely on rainfall, we will create dams, water reservoirs and insist on harvesting food at least three times in a year,'' the president assured.
On food crisis in the West African region, he described the threat as real, saying that urgent steps were necessary to address the challenge.
According to him, there are 800 million hectares of agricultural lands across the world yet to be cultivated and Africa owns half of them.
The president, appealed to Sahel and West African agricultural stakeholder to devise ideas that would guarantee better management in cattle breeding through artificial insemination.
Buhari, however, said his administration was aggressively tackling humanitarian crisis of the Internally Displaced Persons by attending to issues of food and nutrition, especially for women and children in the North East.
Mr Marcel De Souza, the President of ECOWAS Commission, said that no fewer than 40 million Nigerians were internally displaced as a result of the insecurity in the North eastern region.
He listed some of the developmental challenges of the Sahel and West African regions to include economic and political governance.
De Souza called on governments of the regions to invest toward addressing unemployment and food crisis, which he described as bane to development.
Mr Kassoum Denon, the Malian Minister of Agriculture, appealed to various countries in the Sahel and West Africa to share ideas and success stories with a view to addressing food crisis in the regions.
The Food Crisis Protection Network is an international network created in 1984 as part of regional system for the prevention of food crisis.
It brings together Sahelian and West African expertise of the humanitarian and development spheres by mobilising available resources for social protection, livelihoods, nutrition, agricultural development, natural resources management to benefit the most vulnerable populations.
It aims to eradicate hunger and malnutrition by 2030 in the regions.

Load more