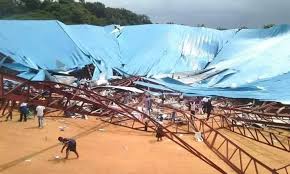 The number of people who died in Saturday's collapsed Reigners Bible Church building in Uyo, the Akwa Ibom capital, has risen to 29.
The state Police Commissioner, CP Murtala Mani, confirmed this on Monday in Uyo.
27 died as at Sunday, while 37 persons, who suffered from various degrees of injury were receiving treatment in designated hospitals.
The latest figure now shows that 35 persons injured are currently receiving treatment.
The police commissioner said," the remaining 35 persons are responding to treatment."
He however declined to confirm whether any member of the Akwa Ibom Executive Council (EXCO) was involved.
"I don't know of any EXCO member involved," Mani said.
He said that he was not aware of the arrest of the contractor and the engineers that handled the church building project.
NAN reports that in a statewide broadcast on Sunday condoling the victims' families, the state governor, Mr Udom Emmanuel, had ordered the arrest the contractor that handled the church building.
Emmanuel had also ordered investigation into the causes of the building collapse during a worship session, where the governor himself, who was in attendance, escaped unhurt.
The governor was the special guest of honour at the bishopric consecration service of the church founder, Apostle Akan Weeks.
The church sited along Uyo village road near Government House is alleged to have been hastily completed to allow for the hosting of bishopric enthronement of the founder.