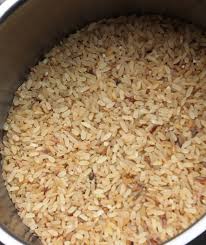 The demand for Nigerian grown rice has risen in Calabar as residents patronise it more due to high cost of foreign rice.
Investigation on Monday in Calabar shows that residents of the state prefer the rice for this year's yuletide.
A resident, Mr Richard Nku, said he preferred the Nigerian grown and processed rice to foreign one for various reasons.
"It is cheaper, more affordable and even sweeter than foreign rice. So I cannot spend as much as N26, 000 just to buy just a bag of rice simply because it is foreign.
"In this Christmas, I am going for locally made rice and that is what my family and everybody in my house will eat until January,'' he said.
Another resident, Mr Raymond Ubi, also described local rice as a credible alternative to the current rising price of foreign rice.
"I go for our own made rice, no matter what people think about it, I prefer it, in fact I like it more than the so called foreign rice,'' he said.
A rice farmer, Mr Fidel Egoro, said there was serious pressure on his company to supply rice.
"We are under serious pressure to deliver on demand and that is why we cannot accept people paying us through banks.
"We do not have the time to go to the bank, so we prefer cash to save time; many people have placed orders for rice and we are trying to meet up before the close of the season,'' he said.
He also observed that prices of locally produced rice might go up before Christmas due to increased demand for it.
"One bushel of rice (equivalent of half bag) sells for N7,250, while two bushels (equivalent of one bag) sells for N14,500).
"This may increase before the close of the season, depending on changes in cost of production,'' he said.