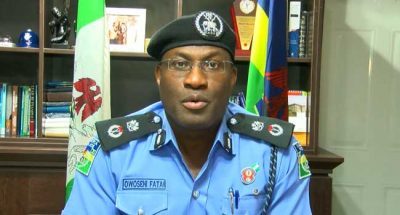 Lagos State Commissioner of Police, Fatai Owoseni on Tuesday revealed that 246 people were murdered, 542 vehicles stolen and 486 armed robbers arrested in Lagos in the last one year.
He said the period of the statistics spanned between December 2015 and November 2016.
Owoseni spoke at the 10th Town Hall Meeting on Security with the Governor, held at the Civic Centre, Victoria Island, Lagos, Southwest Nigeria on Tuesday.
The commissioner disclosed that 246 cases of murder were recorded in Lagos in the last one year, saying that death occasioned by cultism, gangsterism, youth restiveness and street fights ranked highest.
"The menace is most prevalent in areas within Ijede, Morogbo and Surulere Police Area Commands respectively. This cut across the three senatorial districts of the state. Clashes are mainly for supremacy as well as claim to territories for the purpose of collecting illegal levies for business owners and motorists.
"The gangsters are sometimes employed to settle scores of various types and use as foot soldiers by some very important personalities in the society. Identified groups include 'Aye,' 'Eiye,' 'Awawa Boys,' and 'One Million Boys'. Two groups-'Owonikoko and Happiness' are made of members with ages between 10 and 14 years," he said.
Owoseni also disclosed that 542 different brand of motor vehicles were reportedly stolen, saying that 65 percent of the vehicles were either removed from where they were parked or driven away by drivers employed by unsuspecting individuals.
He revealed that 486 armed robbery suspects were arrested while 46 of them were killed during confrontation with the police, adding that 38 suspected kidnappers were arrested and 181 other suspects were arrested in connection with cultism and street fights.
Owoseni further disclosed that 355 distressed calls of allegation of armed robbery were received, out of which 85 calls were found to be false, while 179 (66%) were prevented due to swift response, just as 91 robbery cases could not be prevented from happening.
"Areas within Ogba Area Police Command accounted for the highest number. 51 cases of kidnapping were recorded, with Ijede Police Area Command accounted for the highest number (47%). They may not be unconnected with the physical and cultural environment of the area. Most of the communities affected can be easily accessed through the many hidden water/streams and they also have oil pipeline run through them," he explained.
Furthermore, Owoseni said that 213 different firearms were recovered with 2,901 rounds of ammunition and cartridges of different calibers, while 293 motors were recovered, adding that 180 cases of domestic and sexual violence were reported to the police in the last one year.
"Eighteen are domestic violent cases while 162 are rape/defilement. Convictions of punishment ranging from three to 13 years imprisonment were secured from four of the cases, while trial in the remaining cases are at one stage of hearing or the other," he said.
However, Owoseni lamented that while every effort was made to ensure that police officers and other ranks conduct themselves in the best manner as well as respect the fundamental rights of the citizens in the discharge of their statutory duties, it was a common knowledge that some still engaged in criminal acts and vices that made members of the public lose confidence in the police.
"Appropriate disciplinary actions were taken against such non-conformists, including criminal prosecution of those found culpable in criminal offences. It is our pledge that we shall continue to put to the best use, the resources made available to the force," he said.
-Kazeem Ugbodaga