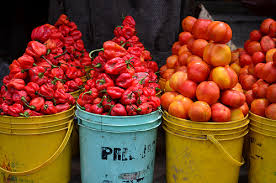 Ahead of Christmas celebration, prices of tomatoes and pepper have reduced by 55 per cent in most Lagos markets.
At Mile 12 and Iddo markets, a basket of tomatoes which previously cost N9,000 now sells for N5,000, while tatashe and chilli pepper cost N4,500 and N4,000 respectively, as against N8,000 in November.
A jute bag of Onions sells for N17, 000 as against N28, 000, while a paint measurement of garri costs N650.
Mr Femi Odusanya, Spokesperson, Mile 12 Traders Association, said the prices dropped due to massive harvest of the items for the Yuletide season.
"Most farmers are harvesting their produce now leading to surplus and drop in prices of the items in the market.
"Our appeal to government is to mop up the excesses through preservation because prices will further drop until April when the produce will not be in season.
"We do not want a repeat of previous experience that we had much food waste due to our inability to preserve the excesses," he said.
Odusanya urged government to take pragmatic steps that would encourage farmers to increase their outputs to boost food sufficiency in the country.
At Daleko Market, the price of a 50-kilogramme bag of rice ranged between N16,000 and N24,000 depending on its brand.
Mrs Yinka Okunola, a rice seller at the market, said that the prices of rice were high due to exchange rate of the Naira and non-availability of local variety in most markets.
"We do not have the locally produced rice in the market, and when available it competes favourably with the imported rice and forces a reduction in the prices of rice," she said.
The Lagos State Government had disclosed that it would commence the sale of its Lake Rice on Dec.15 at N13,000 for a 50kg bag.

Load more