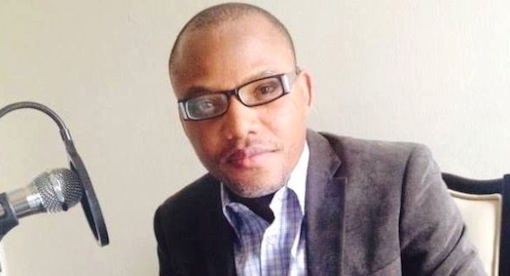 The Federal High Court on Tuesday in Abuja approved Federal Government's request to protect the identities of prosecution witnesses in the trial of detained Pro-Biafran leader, Nnamdi Kanu.
But this did not go down well with Kanu who vowed that Nigeria will burn if he opens his mouth.
The leader of the Indigenous People of Biafra (IPOB), is being tried along Chidiebere Onwudiwe, Benjamin Madubugwu and David Nwawuisi.
Giving ruling in the motion filed by Mr Mohammed Labaran, counsel to government, Justice Binta Nyako held that the application was meritorious.
She said the prayer to shield the names and addresses of the prosecution witnesses who were largely security operatives was not a bad idea, adding that the law supported it.
"It is therefore the court's order that the names and addresses of the prosecution witnesses shall only remain with the court.
"The prosecution witnesses who should appear in combination of alphabets will be given screens, which will be provided by the court.
"The defendants and their counsel will however be able to see the witnesses before they testify,'' Nyako held.
She further said: "let the public not misconstrue the stance of the court as a grant for a secret trial.
"The court shall be open for public, including accredited journalists and families of the defendants."
The judge had barely finished her statement when Kanu bellowed from the dock: "I won't stand this travesty of Justice. Buhari spoke in public, he accused me in public. I must also be allowed to stand my trial in public."
"This is nonsense! I will give testimony before this court! By the time I finish, there will be no Nigeria. This is no Sharia court. It is a court that operates under the common law.
"There will be no screening of witnesses, no fake identities or fake addresses. I cannot be tried in secret. No! Nnamdi Kanu cannot be jailed in secret! They are mad. Why must I be tried in secrecy by a government that does not obey court orders.
"They are killing my people in public, after killing my people they want to try me in private? That person is mad. I won't allow it. ", Kanu said angrily.
It would be recalled that the applicant had applied for all the witnesses to be allowed to testify behind screen.
The prosecution also prayed that the identities of the witnesses should not to be revealed in any record of the proceedings.
The defendants had vehemently opposed the application, contending that granting such request would amount to gross violation of their rights to fair hearing.
The defendants were alleged to have conspired to broadcast on Radio Biafra, which is monitored in Enugu and its environs, on cessation plans.
They were alleged to have committed treasonable felony, an offence punishable under Section 41(C) of the Criminal Code Act, CAP C38 Laws of the Federation of Nigeria, among others.
Meanwhile, the judge had adjourned trial until January 10, 2017.