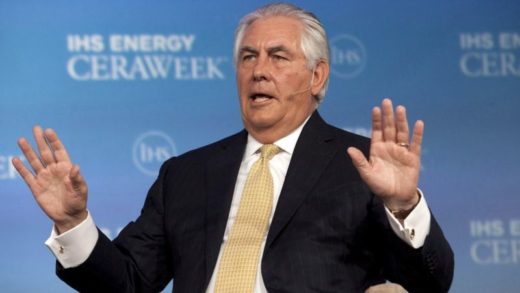 President-elect Donald Trump has confirmed the chief executive of Exxon Mobil, Rex Tillerson, as his choice for US secretary of State.
Mr Trump praised Mr Tillerson, 64, in a statement as among the "most accomplished business leaders and international dealmakers" in the world.
Mr Tillerson is said to have a good relationship with Russian President Vladimir Putin, alarming both Democrats and some Republicans.
The nomination needs Senate approval.
Days ago it emerged that US intelligence agencies believe Russia acted covertly to boost Donald Trump in the election race.
The secretary of state is in effect the most senior US diplomat, responsible for enacting the government's foreign policy.
"Rex Tillerson's career is the embodiment of the American dream," Mr Trump said.
"His tenacity, broad experience and deep understanding of geopolitics make him an excellent choice for Secretary of State."
Mr Tillerson said he was "honoured" by the nomination, adding that he shared Mr Trump's "vision for restoring the credibility of the United States' foreign relations and advancing our country's national security".
-BBC