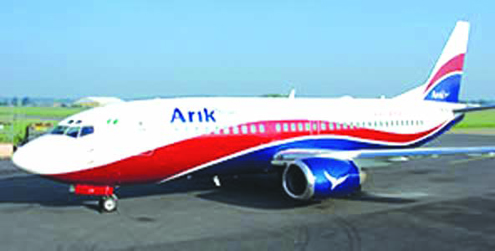 The management of Arik Air on Thursday reiterated the airline's commitment to international safety and operational standards.
The airline gave the assurance in a statement signed by its Communications Manager, Mr Ola Adebanji, which was obtained by the News Agency of Nigeria (NAN) in Lagos.
The statement appealed to Arik Air's guests to ignore any message alleging that the airline's aircraft were not well maintained.
It said it was the handiwork of mischief makers and one of the airline's staff whose appointment was terminated on Dec. 13 for misconduct and fraud.
According to the statement, Arik Air has been leading the resurgence of Nigerian civil aviation and has been using modern and well-maintained aircraft for operations.
The statement said: "This is evident in the airline achieving the stringent IOSA (IATA Operational Safety Audit) four consecutive times, with the last two audits cleared successfully without any findings.
"This achievement has also earned Arik Air, EIOSA (Enhanced IATA Operational Safety Audit) making it the only airline in West and Central Africa to have such certification."
It added that the airline operates the youngest fleet in West Africa, with an average hull age of 7.8 years.
The statement said it also had an existing contract with world renowned maintenance providers such as Lufthansa Technik and Lufthansa Cityline under full "turnkey" maintenance service contracts and other leading maintenance service providers.
It said: "Arik Air also maintains a well-stocked spare parts store with a market value of over $250 million.
"Arik Air has in its 10 years of operation, safely transported about 20 million passengers across its network of 19 domestic, 10 regional and three international destinations."

Load more