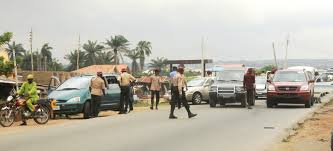 Mr Friday Ekhator, the State Coordinator, Federal Road Safety Commission (FRSC) Special Marshal unit in Edo, says 900 personnel will be deployed to identified black spots in Benin metropolis during the Christmas period.
Ekhator made this known in Benin on Thursday.
"We are saddened by the preventable road crashes recorded in the state in recent time,'' he said.
He added that special marshals in the state had met and resolved to come up with plans to mitigate road crashes during the festive period.
"The state is working out a good number of plans to ensure that we have safe motoring during the yuletide.
"The commission has its goal of ensuring that the roads are free for everybody to use, most especially this period when people are always in a hurry.
"The Special Marshal unit has been able to put in place a mechanism that will help reduce traffic congestion and minimize carnage on our roads.
"We are deploying 900 of our personnel to the roads from between Dec. 19 to Jan. 10.
"We have been able to break the city into groups, with not less than five Special Marshals assigned to these troublesome areas.
"Not only that. The relevant FRSC regular units have also been mandated to send to us patrol rosters to enable us to know how they will key into this arrangement,'' he said.
Ekhator, who decried the recklessness of motorists on the roads, assured that special marshals would continue with their strategy of "enlightenment that we have given them''.
He, however, expressed dismay that "there are situations where you talk to drivers and you expect them to obey, but they try to humiliate you.
"But I can tell you that the commission is working out ways by which we can arrest and promptly prosecute such offenders.''

Load more