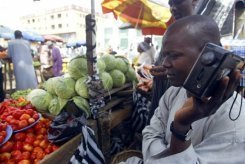 The National Bureau of Statistics (NBS), says Consumer Price Index (CPI), increased to 18.48 per cent (year-in-year) in November from 18.33 per cent recorded in October.
The CPI, which measures inflation, is 0.15 per cent points higher from the points recorded in October.
A report released by the NBS in Abuja on Thursday noted that increases were recorded in all Classification of Individual Consumption by Purpose (COICOP), divisions that yield the Headline Index.
"Communication and Insurance recorded the slowest pace of growth in November, growing at 5.61 per cent and 6.76 per cent year-on-year respectively.
"The Food Sub Index inched higher to 17.19 per cent (year-on-year) in November, up by 0.10 percentage points from rates recorded in October (17.09 per cent).
"During the month, all major food sub-indexes increased with Soft Drinks recording the slowest pace of increase at 7.76 per cent year on year.''
According to the report, price movements recorded by the All Items less farm produce or Core Sub index rose by 0.10 percent to 18.20 per cent (year-on-year) in November.
The report stated that the figure recorded in October was 18.10 per cent.
It stated that during the month, the highest increases were seen in housing, water, electricity, gas and other fuels.
"Increases were also seen in clothing materials and other articles of clothing, books, liquid fuel, passenger transport by air, motor cycles and shoes and other footwear.''
On a month-on-month basis, the report stated that the Headline index increased 0.78 percentage points in November.
It stated that the figure was 0.05 percentage points lower than the rate recorded in October (0.83 per cent).
Nigeria's inflation rate increased, this time marginally, for the 13th consecutive month.

Load more