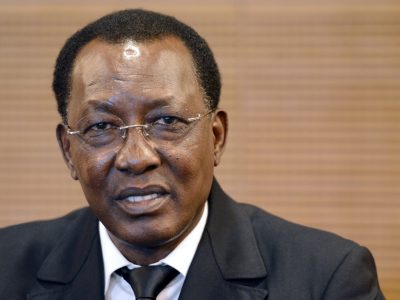 The Chairman of the African Union (AU), Mr Idriss Deby, on Monday expressed full support for the decisions adopted by the ECOWAS Heads of State on the political situation in The Gambia.
In a statement issued in Addis Ababa and made available to the News Agency of Nigeria (NAN), in Abuja, Deby commended the Heads for their "principled stand with regards to the situation in The Gambia.
He said the AU was in full support of the decisions reached at the meeting held in Abuja on Dec 16, including "the consideration to use all necessary means to ensure the respect of the will of the people of The Gambia.''
"The Chairman of AU reaffirms its readiness to pursue and intensify coordination efforts with ECOWAS and the UN.
"This is in order to facilitate the speedy and orderly transfer of power to the President-elect, including its full support to President Muhammadu Buhari, in his capacity as ECOWAS Mediator in The Gambia.''
Deby, who is the President of Chad, repeated his call on The Gambia's outgoing President Yahya Jammeh to facilitate the smooth transfer of power to the newly elected president, Adama Barrow, as decided by The Gambians.
He also called on members of the security forces in The Gambia to strictly abide by the country's Constitution and the rule of law.
Leaders of ECOWAS had at the end of their one-day summit in Abuja reiterated their support to the sanctity of the election in The Gambia which saw the incumbent, Jammeh losing to the opposition candidate Barrow.
They condemned the decision by Jammeh to reject the result of the election which he had earlier accepted and even called the winner to congratulate him.
The meeting also appointed President Buhari as its Mediator to be assisted by Ghana's John Mahama to ensure all parties in The Gambia accepted the outcome of the election.
The meeting also resolved that all Heads of State of the organisation should attend the inauguration of Barrow as the new president of the The Gambia on Jan. 19, 2017.

Load more