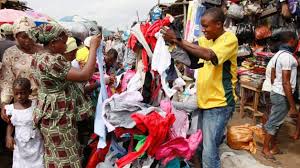 With the cost of living skyrocketing each day in Nigeria due to the economic recession, some parents in Yenagoa, the Bayelsa capital have resorted to buying second hand clothes.
Second hand or fairly used clothes popularly called "Okrika" are now the preferred alternative for some parents who could not afford the cost of buying new ones for their children this Christmas.
A correspondent of the News Agency of Nigeria (NAN), who visited Swali market in Yenogoa on Monday, reports that the section selling fairly used clothes for children was a beehive of activities.
Parents were seen scrambling to buy second-hand clothes for their children and wards.
Mr Ebimo James, one of the parents, who spoke to NAN, said the recession had led to astronomical increase in the cost of goods and services including new clothes for children.
James, a father of three, said he chose to buy the fairly used clothes as he could not afford to buy new ones, as the prices had gone over the roof,
"I will not say Okrika clothes are good for the kids but you see, this is what the economic recession brought to us.
"Second hand clothes are the only alternative we can afford to buy for our children during this Christmas.
"I have three kids; if I use all the money in my possession to buy new clothes for them, I may end up buying for only one child.
"Though the cost of Okrika clothes is high, they are still affordable.
"I select the clothes I buy for my children from what the sellers called "first grade open" which are fairly new," James said.
Mrs Mariah Chike another buyer said she was compelled to patronize Okrika clothes due to the high cost of the new ones.
She blamed the situation on the poor economy.
"The economy is tough; people no longer care the type of clothes they wear, the priority now is how to provide food for the family rather than buying clothes," she said.
Mr Grace Onoh, who sell new clothes at the market, blamed the high exchange rate of the naira to the dollar for the increase in the cost of new clothes.
Onoh said: "I am still into the business because this is what I have been doing and I cannot leave it just because we are experiencing low patronage.
"I believe business will bounce back when the economy improves.
"The prices of the clothes we sell depend on the quality; we sell clothes made in Turkey, China, UK and USA.
"A pair of boys' trouser made in Turkey is sold between N5, 000 and N8, 000.
"The cost of girl dress is higher; they ranged from N7, 000 and above.''

Load more