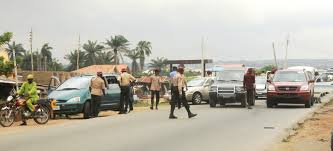 The Federal Road Safety Commission (FRSC) says it has reduced its emergency mobile clinic response time to 15-minute in road corridors in the South-East.
The FRSC Zonal Commanding Officer, Mr Samuel Obayemi said in Enugu on Monday that the zone would deploy additional four mobile clinics to the road corridors.
Obayemi, who is in charge of Abia, Ebonyi, Enugu and Imo States, said that FRSC would also use mobile clinics of other sister security agencies within the period of the special yuletide patrol.
He said that the mobile clinics had been stocked with state-of-the-art medical equipment, drugs and personnel to quickly give reviving first aid to accident victims in any road corridor within the zone.
"We have observed that the first 15-minute to 30-minute of any crash present gives opportunity to reduce the fatality of the incident on the victim or victims.
"So, apart from having thousands of regular and special marshals on the road corridors; we are deploying emergency mobile clinics to in road corridors in the zone.
"Lengthy roads will have two mobile clinics to meet the 15-minute response time deadline,'' he said.
The zonal commander also said that FRSC officials would be on hand to check reckless driving.
"FRSC demands that drivers must maintain lane discipline in order to check overtaking that causes crashes in our road corridors.''
Obayemi added that FRSC would be partnering with the Nigerian Army, Air force, Police, Nigeria Security and Civil Defence Corps (NSCDC) for the yuletide special patrol.
"Those using road corridors in the South- East should know that they are not alone as FRSC and other sister security organisations will be on the roads to ensure their safety.''
The major road corridors in the zone include: Enugu-Onitsha; Enugu-Nsukka- Obollo Afor; Enugu-Port Harcourt; Enugu-Abakaliki and Enugu-Udi-Oji River roads, among others.

Load more