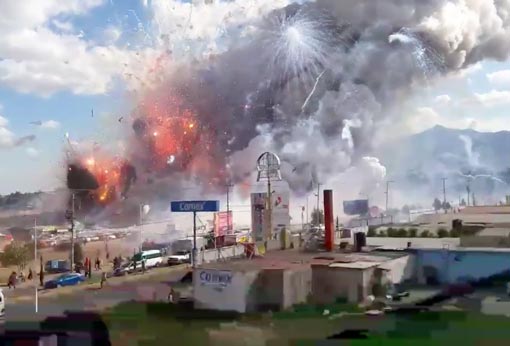 A string of explosions at a fireworks market in Mexico on Wednesday killed at least 31 people, and more than 70 others were reportedly injured, according to reports.
The explosions took place at the San Pablito fireworks market in Tultepec.
Eruviel Avila, governor of the local state, said 26 people had died at the scene.
Three badly injured children were transported to the United States for treatment, he added.
The rest of the victims died in hospital, reports said.
Officials were investigating the cause of the massive explosion.
The market, located around 40 kilometers north of the capital Mexico City, had approximately 300 vendors and reportedly sold 80 per cent of all pyrotechnics in Mexico.
Mexican President Enrique Pena said: "My condolences to the relatives of those who lost their lives in this accident and my wishes for a speedy recovery for the injured''.
Shooting flames and fireworks could be seen in a large cloud of smoke rising from the area in videos of the explosion.
The blast damaged nearby homes and soldiers evacuated buildings around the market.
Rescue personnel searched the remains of the market stalls for buried victims and special police units were sent to Tultepec to assist, Mexican Federal Police Official, Manelich Castilla, said.
As many as 2,000 visitors and buyers may have been at the market when the explosion occurred, according to Mexican news outlet, El Universal.
Fireworks accidents in Mexico are common; they are used throughout the year at religious festivals, on the country's national holiday in September and at Christmas.
In 2013, 16 people were killed and 153 others were injured by exploding fireworks at a procession in the state of Tlaxcala.
In 2003, 28 people were killed in an explosion at a fireworks market in the state of Veracruz

Load more