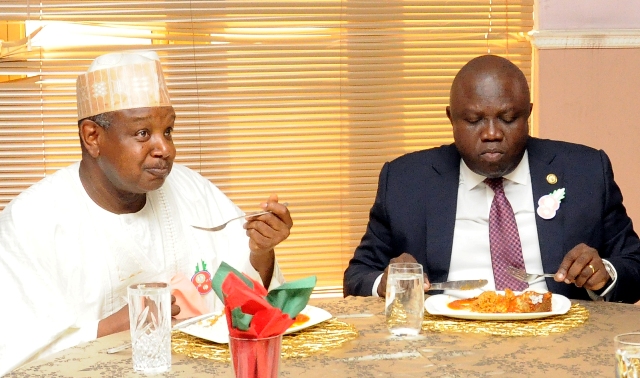 Lagos State Governor, Akinwunmi Ambode and his counterpart from Kebbi State, Atiku Bagudu on Wednesday official launched the long awaited Lake Rice to be sold to the public at N12,000 per 50kg bag.
At the official launch of the rice at the State House, Ikeja, Lagos, Southwest Nigeria, Ambode described the launch as historic as the Memorandum of Understanding, MOU, signed between Lagos and Kebbi States in March 2016 had begun to yield the needed fruit.
"We signed MOU in March 2016 with an understanding that we being proudly Nigeria, we want to come out with what is made in Nigeria and what is good for Nigerians. We took all that Buhari said that we needed to grow our food and we decided that we will prove a point and that is what today is all about," Ambode said.
According to him, the Lake Rice was grown and milled in Nigeria, with extreme high quality, adding that "we have Ofada and imported rice and we want to show our people that Lake Rice is the way to go. The major different between Lake Rice and imported is that imported rice has a minimum storage capacity of five and and six years but lake rice is fresh."
The governor hinted that the state would expand its rice mill as Lagos has the largest consumption market in Nigeria.
He said since this was the yuletide period when consumption of rice was highest, government had decided to sell 50kg bag of Lake Rice for N12,000; 25kg bag for N6,000 and 10kg bag for N2,500, adding that the rice would be on sale as from tomorrow in about 10 different locations across the state.
The governor said that one needed to get a ticket from the location to pay for a bag of rice in the bank before coming back for collection, adding that this was done to allow the rice go round everybody.
"We want to ensure that this rice goes to everybody. You cannot buy twice," he said, while thanking the Minister of Agriculture for his support to the state government with a promise to donate two rice mills to Lagos next year.
Speaking, Bagudu said 16 months ago during the National Executive Council meeting in Abuja, he entered into a discussion with Ambode for a joint partnership for the production of rice in view of what was happening in the country.
"We agreed that we should showcase our belief in Nigeria and our people and our commitment to the agenda of making Nigeria a big market in Africa and Kebbi State has comparative advantage in area of rice production. Since then, we have been working assiduously on this after we signed a MOU," he said.
He said the product could stand any integrity test in Nigeria as the rice was of high quality, adding that Lake Rice had a unique quality different from other rice in the country.
"Our rice are of quality. I am proud of this joint venture, we can do more, we are glad that we are launching the Lake Rice today," he said.
However, the new locations for the sale of the rice are in the three senatorial districts where the rice will be sold are:
Lagos East: Ikorodu -Odogunyan Farm Service Centre; Epe -Temu Farm Service Centre; Eredo -Noforija Town Hall, Ibeju -Magbon Alade High School and Maryland -SUBEB premises
Lagos West: Agege – LSADA Complex/Farm Service Centre; Ojo -LAISA Office Agric Bus Stop; Muwo-Coconut House; Badagry-Town Farm Service Centre; Marina, Oshodi-Ikeja Grammar School, Bolade.
Lagos Central: Ajah -Ministry of Agric Area Office; Lagos Island-LASTMA Office Adeniji/Freeman; Ajegunle-Alakoto Senior High School, Tolu; Surulere -Teslim Balogun Stadium; Yaba-Mobolaji Johnson Sports Centre, Rowe Park.
-Kazeem Ugbodaga