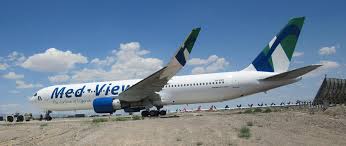 Med-View Airline has expanded its operation in the West African sub-region, extending flight services to Monrovia, Liberia and Freetown Sierra Leone via Accra, Ghana.
Mr. Obuke Oyibhota, Media Consultant of the airline announced the expansion in a statement in Lagos on Wednesday.
The maiden flight, which started on Tuesday, was in fulfillment of the airline's promise to use its Accra operations as stepping stone to other countries in the West Coast," he said.
According to him, flight to the two countries took off from Lagos via Kotoka International Airport, Ghana to Roberts International Airport, Liberia and Freetown International Airport, Sierra Leone.
Oyibhota said the outbound flight headed straight to Kotoka in Ghana before going back to Nigeria.
He said that both countries welcomed the airline, describing the operation as a giant step towards strengthening regional integration among Economic Community of West African States (ECOWAS) countries.
The maiden flight was received in Liberia by the Special Representative of the President of ECOWAS Commission in Liberia, Ambassador Tunde Ajisomo, he said.
The media consultant quoted Ajisomo as describing the new operation as a courageous move by Med-View to fill the vacuum created by the absence of African airlines plying the West African routes.
He also quoted Ajisomo as saying that the development aligned with the vision of ECOWAS to deepen trade and economic relations between African countries and their peoples.
Oyibhota said that the flight was also received in Freetown by the Sierra Leone's Minister of Transport and Aviation, Mr. Leonard Koroma.
The consultant quoted Koroma as saying that the government and people of Sierra Leone were delighted with the development.
Accordingly, Koroma was quoted as describing Med-View as not only the airline of Nigeria but that of Sierra Leone, urging the airline to further expand its operation in the country.
Also, the Managing Director of the airline, Alhaji Muneer Bankole, said that the airline opened the two routes to improve regional integration which the West African leaders had been agitating for.
Bankole said the flight service would also improve business activities, capacities and capabilities of people of the two countries.
He explained that Med-View Airline was in Liberia and Sierra Leone to create jobs for the people and assured that the airline would be consistent in the new routes.
Meanwhile, the airline has taken delivery of one of its new aircraft, a B737-800, which arrived in Nigeria on Tuesday.
According to Oyibhota, the additional aircraft is expected to strengthen the airline's domestic operations, especially as the Christmas and New Year festivities draw nearer.